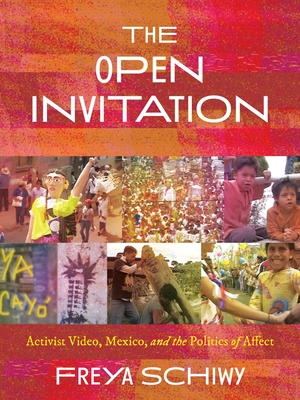 The Open Invitation (Hardcover)
Activist Video, Mexico, and the Politics of Affect (Pitt Illuminations)
University of Pittsburgh Press, 9780822965749, 248pp.
Publication Date: May 28, 2019
* Individual store prices may vary.
Description
The Open Invitation explores the relationship between prefigurative politics and activist video. Schiwy analyzes activist videos from the 2006 uprising in Oaxaca,  the Zapatista's Other Campaign, as well as collaborative and community video from the Yucatán. Schiwy argues that transnational activist videos and community videos in indigenous languages reveal collaborations and that their political impact cannot be grasped through the concept of the public sphere. Instead, she places these videos in dialogue with recent efforts to understand the political with communality, a mode of governance articulated in indigenous struggles for autonomy, and with cinematic politics of affect.
 
About the Author
Freya Schiwy is associate professor of media and cultural studies at the University of California, Riverside.
 
Praise For The Open Invitation: Activist Video, Mexico, and the Politics of Affect (Pitt Illuminations)…
"A highly original analysis of community, indigenous, and activist media in contemporary Mexico. Schiwy sustains insightful comparisons between contemporary video production and militant Latin American cinema of the 1960s and 1970s, demonstrating with elegance the innovative ways in which contemporary productions construct what she calls a 'decolonial politics of affect' that is analyzed through the categories of visibility, communality, joy, and humor."
—David M.J. Wood, Universidad Nacional Autónoma de México
 
"Schiwy accomplishes a genealogical shift that is overdue—repositioning a 'reading' of indigenous media less tethered to cultural anthropology where media makers operate as artists and where their works and process are in dialogue with broader discourses, including those of cinematic traditions in Latin America."
—Erica Cusi Wortham, George Washington University