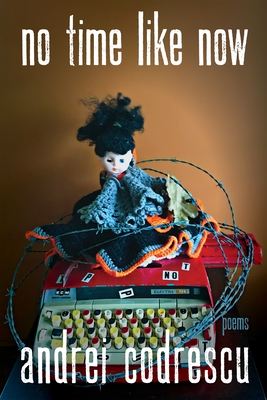 no time like now (Paperback)
Poems (Pitt Poetry Series)
University of Pittsburgh Press, 9780822965824, 96pp.
Publication Date: March 26, 2019
* Individual store prices may vary.
Description
In Codrescu's own words:
"I wrote my first book of poems, License to Carry a Gun (Big Table, 1970), when I first lived in New York City, 1967–1970. Those were troubled times and I was 21 years-old. Decades later the city has changed and the times are still troubled. These poems, 2016–2018, try to find out just how changed my dear city and how troubled my days."
 
About the Author
ANDREI CODRESCU was born in SIbiu, Transylvania, Romania, and emigrated to the United States in 1966. He is the author of numerous books: poems, novels, and essays. He founded Exquisite Corpse: a Journal of Books and Ideas. He was a regular commentator on NPR's All Things Considered. He taught literature and poetry at Johns Hopkins University, the University of Baltimore, and Louisiana State University.
Praise For no time like now: Poems (Pitt Poetry Series)…
"With humor and grace, wisdom and tenderness, Codrescu transforms the commonplace into the miraculous. His work is cause for celebration."
- Kay Boyle
"In his newest collection of lyric poems, the brilliant Andrei Codrescu reveals himself yet again as our funniest/saddest contemporary bard. Newly returned to New York, the city of his youth, Codrescu the flâneur observes the daily disjunctions of Manhattan life in all their absurdity. Astonishingly honest, bittersweet, hilarious, and heart-breaking:
no time like now
 is a book you must read!"--
Marjorie Perloff
, -- critic and author of 
The Vienna Paradox.
"Andrei went
there
as an adolescent (U.S.); later I came
here
(France): we have known each other forever. I read his new book
no time like now
and see how similar (
semblable
) we remain in a zoo world of cellphone-users with customs. Older ones who have mastered their art are left with the glee of language. These poems also contain plenty of love."-
-Alice Notley
, author of
Obedience
, and
Certain Magical Acts 
Codrescu lands on a powerful statement on how we can interact with the contemporary world he struggles to write about: "I was new in America your strings vibrated / in a newness new even to the new world / a world that must be courage itself or die."-- Josh Cook, LA Review of Books