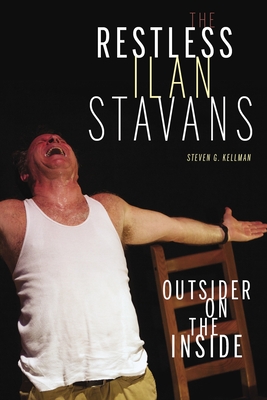 The Restless Ilan Stavans (Hardcover)
Outside on the Inside (Latinx and Latin American Profiles)
University of Pittsburgh Press, 9780822965855, 128pp.
Publication Date: April 16, 2019
* Individual store prices may vary.
Description
This is the first book-length study of one of the most prominent and prolific Latino academics, Ilan Stavans. He has written extensively on Latino culture, Jewish culture, dictionaries, immigration, language, Spanglish, soccer, translation, travel, selfies, and God. The Restless Ilan Stavans surveys his interests, achievements, and flaws while he is still in the midst of an extraordinarily productive career. A native of Mexico who became a U.S. citizen, he is an outsider to both the Chicano community that often resents him as an interloper and the American Jewish community that he, who grew up speaking Yiddish in Mexico City, often chides. The book examines his unlikely rise to prominence within the context of the spread of multiculturalism as a seminal principle within American culture. A self-proclaimed cosmopolitan who rejects borders, Stavans is both insider and outsider to the myriad of subjects he approaches.
 
About the Author
Steven G. Kellman is a professor of comparative literature at the University of Texas at San Antonio.
 
Praise For The Restless Ilan Stavans: Outside on the Inside (Latinx and Latin American Profiles)…
"With Kellman writing on Stavans we encounter the spirit of the pícaro—and squared. Think: Cantinflas, Quixote, Candide, Tristram Shandy, Zelig playfully disrupting normative patterns of thinking as they dance across the ever-moving time and space of a funhouse mirror. Kellman's rigorous scholarship and mischievous pen sidestep hagiography to bring out the best of Stavans: his playfully slippery creative and intellectual poetics that poke, tease, and interrogate in ways that force us to rethink our own understanding of canons, language, culture, borders, belonging, history—even today's hanging-by-a-thread democracy."
—Frederick Luis Aldama, Ohio State University