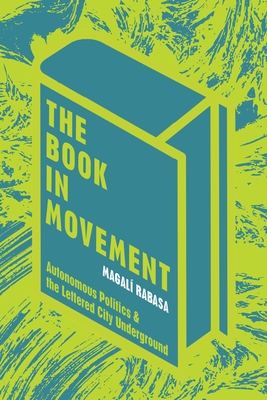 The Book in Movement
Autonomous Politics and the Lettered City Underground (Pitt Illuminations)
Hardcover

* Individual store prices may vary.
Description
Over the past two decades, Latin America has seen an explosion of experiments with autonomy, as people across the continent express their refusal to be absorbed by the logic and order of neoliberalism. The autonomous movements of the twenty-first century are marked by an unprecedented degree of interconnection, through their use of digital tools and their insistence on the importance of producing knowledge about their practices through strategies of self-representation and grassroots theorization. The Book in Movementexplores the reinvention of a specific form of media: the print book. Magalí Rabasa travels through the political and literary underground of cities in Mexico, Bolivia, Argentina, and Chile to explore the ways that autonomous politics are enacted in the production and circulation of books.
 
Praise For The Book in Movement: Autonomous Politics and the Lettered City Underground (Pitt Illuminations)…
"The Book in Movementis a deeply researched ethnography of autonomous publishing in contemporary Latin America. Rabasa traces networks of action in Mexico City, Oaxaca, La Paz, Buenos Aires, and Santiago, in which books emerge as precipitates of human social practice. The result of rigorous observation and analysis, this study helps us understand books within a flux of movement of many sorts—labor, thought, solidarity, and imagination—and offers a sophisticated model for studies of textual materiality." —Craig Epplin, Portland State University
 

"This is an excellent, important, and methodologically innovative book. In its materiality-centered perspective—illuminating the networks established among objects, machines, and people—books are seen not simply as purveyors of symbolic content (the ideas explored in them) but in fact as actors endowed with the capacity to produce change and connections in the real world as material objects." —Juan Poblete, University of California, Santa Cruz
 

"Rabasa contributes an essential thread to the dynamic conversation in Latin American studies on the evolution of the book. Her eclectic interdisciplinary approach—from archives and material culture to on-the-ground fieldwork to sociopolitical analysis—reveals the role of the book as a point of encounter for collective agency. These transnational book projects challenge the region's reigning neoliberal consumerist culture to celebrate their hands-on, interactive, and mobile nature." —Marcy Schwartz, Rutgers University
University of Pittsburgh Press, 9780822965879, 232pp.
Publication Date: May 7, 2019
About the Author
Magalí Rabasa is assistant professor of Hispanic studies at Lewis & Clark College.
 
or
Not Currently Available for Direct Purchase