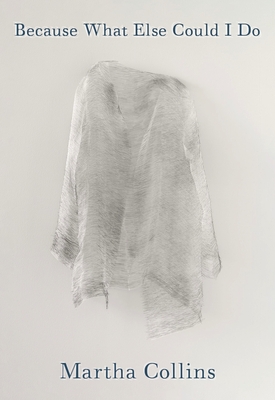 Because What Else Could I Do
Poems (Pitt Poetry Series)
Paperback

* Individual store prices may vary.
Description
Winner of the 2020 Poetry Society of America's William Carlos Williams Award

Because What Else Could I Do is a sequence of fifty-five untitled short poems, almost all of them addressed to the poet's husband during the six months following his sudden and shocking death. Perhaps best known for her historical explorations of sociopolitical issues, Martha Collins did not originally intend to publish these poems. But while they are intensely personal, they make use of all of her poetic attention and skills. Spare, fragmented, musical even in their most heartbreaking moments, the poems allow the reader to share both an intimate expression the poet's grief and a moving record of her attempt to comprehend the events surrounding her loss.
Praise For Because What Else Could I Do: Poems (Pitt Poetry Series)…
"Collins captures the variations in the voice of grief: confusion, despair, irony, and talismanic attention to small details. These poems are stripped and spare; they read almost like erasure poems or like listening in on the poet talking to herself only half aloud. . . . This small book urgently and unflinchingly captures the shock and reverberation of unexpected grief." —
Booklist
 "Collins renders the most humbling, gorgeous, and inscrutable features of human existence as if they might be made legible
."  —Publishers Weekly Starred Review
"A dazzling poet whose poetry is poised at the juncture between the lyric and ethics. Those who have followed Collins' books have long since realized that no subject is off limits for her piercing intellect."
  —
AWP Chronicle
"Martha Collins is a weaver of emotion, and she spends a great deal of time meticulously describing grief in a beautiful, heart wrenching way.
Because What Else Could I Do
will leave readers captivated by love." —
Rain Taxi
"Visually delicate and emotionally substantial, the fifty-five poems in Martha Collins' tenth collection, Because What Else Could I Do, interrogate the expectation inherent in connection, here, the poet's with her husband, whose death set up a barrier to comprehension."
—
Heavy Feather Review
"These poems welcome the coming of wisdom that follows great sorrow." —
RHINO
University of Pittsburgh Press, 9780822965916, 64pp.
Publication Date: October 1, 2019
About the Author
Martha Collins is the author of Night Unto Night (Milkweed, 2018), Admit One: An American Scrapbook (Pittsburgh, 2016), Day Unto Day (Milkweed, 2014), White Papers (Pitt Poetry Series, 2012), and Blue Front (Graywolf, 2006), a book-length poem based on a lynching her father witnessed when he was five years old. Collins has also published four earlier collections of poems, three books of co-translations from the Vietnamese, and two chapbooks