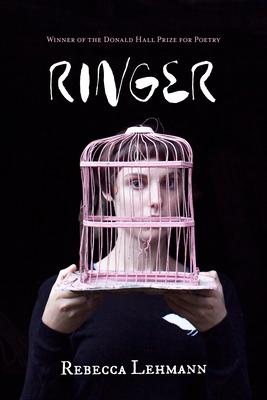 Ringer
Poems (Pitt Poetry Series)
Paperback

* Individual store prices may vary.
Description
Ringer approaches womanhood from two directions: an examination of ways that women's identities are tied to domestic spaces, like homes, cars, grocery stores, and daycare centers; and a consideration of physical, sexual, and political violence against women, both historically and in the present day. Lehmann's poems look outward, and go beyond cataloguing trespasses against women by biting back against patriarchal systems of oppression, and against perpetrators of violence against women. Many poems in Ringer are ecopoetical, functioning in a "junk" or "sad" pastoral mode, inhabiting abandoned, forgotten, and sometimes impoverished landscapes of rural America.
 
Praise For Ringer: Poems (Pitt Poetry Series)…
"Rebecca Lehmann's Ringer is a beautiful book. There's something propulsive and yearning and broken with sadness in these poems.  And ecstatic.  And astonished.  ('His eyes / were four dozen Canadian geese lifting off a late summer river, all at once.'  God I love that!)  And loving.  And there is something that might put its foot up your ass. All made of a gorgeous racket that will probably make you gasp. By which I mean: be in the world anew.  As poetry, if we're lucky, sometimes helps us to be."—Ross Gay
 

"What a great title! It's perfectly true—the whole book rings with surprising images and zingy word-choices, all dedicated to presenting the most mundane things in their truly astonishing particularity. Sharply attuned to issues relating to women—and the ways they've intensified in the current political climate—the work speaks with a fierce and necessary determination infused with an energy not devoid of hope."--Cole Swensen
 

Lehmann's latest book offers readers a sagacious and kinetic whirlwind of unrest and gratitude for the world.
—Publisher's Weekly

"[Lehmann's] subjects may be selfhood, womanhood, motherhood, and family, but her tools for understanding them are an accumulated, tactile sense of life lived and the things around us. . . . Indeed, the lists abounding here pile up to create rich poetry that's exact, sculpted, and delivered in a calm, engaged voice." —Library Journal, Starred Review
 
University of Pittsburgh Press, 9780822965954, 70pp.
Publication Date: September 24, 2019
About the Author
Rebecca Lehmann is the author of Between the Crackups, winner of the Crashaw Prize. Her poems have been published in Tin House, The Georgia Review, Ploughshares, Fence, Boston Review, and more. She lives in South Bend, Indiana, where she is an assistant professor of English at Saint Mary's College.
 
or
Not Currently Available for Direct Purchase