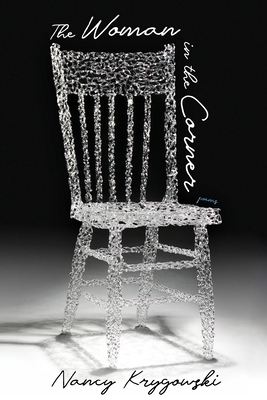 The Woman in the Corner (Paperback)
Poems (Pitt Poetry Series)
University of Pittsburgh Press, 9780822966043, 75pp.
Publication Date: February 25, 2020
* Individual store prices may vary.
Description
The Woman in the Corner keenly observes and gives voice to the ambiguities and astonishments that we often turn away from—in human relationships and in our own unruly hearts. In poems that speak fearlessly about sex and grief, mothers and daughters, and friendships and marriage, Krygowski examines the beauty and danger of inhabiting a woman's body in the twenty-first century while negotiating how our pasts infiltrate, for better or worse, the here and now. This intimate collection delivers hard won loves and insights, surprising humor, and daring imagination. Krygowski celebrates our joys, gives witness to our pain, and never, never compromises.
 
Excerpt from "The Woman in the Corner"
 
I cut a leaf from my mother's blooming violet,
long alive past her death, to start a plant
 
for my daughter who I never knew as a baby—
born to a different woman—
 
but for whom I explained birth
control, blood, how to relax, push in a tampon,
 
what my mother never touched, her body
a child-making mystery that pushed me
 
into mystery.  What is a woman
who doesn't long for kids?
About the Author
Nancy Krygowski is the author of Velocity, winner of the 2006 Agnes Lynch Starrett Prize. She is an ESOL instructor at a non-profit and also teaches in Carlow University's Madwomen in the Attic writing workshops in Pittsburgh.
 
Praise For The Woman in the Corner: Poems (Pitt Poetry Series)…
"If Nancy Krygowski's moving new collection refuses to allow us to slip the limits and desires of the flesh, it also reminds us that it is possible to be moved in each moment from difficulty to tenderness, from disappointment to awe. The moonflower seeds send out their unremarkable sprouts. These are poems populated not only with the aging and the ill but also with the aggressively innocent or naïve: hearts of all kinds. And women. Women who must constantly reckon with their roles as mothers and daughters, wives, neighbors, friends. These are poems that invite us—in a world whose beauty is surely scuffed and muffled— to reopen our lives to rich and quiet joys."—Kathleen Graber, author of The Eternal City
"These poems haunt me. These poems are out and about in America. These poems shout at dope fiends, manspreaders on city buses, middle-school punks hogging a bike path, drivers drunk on their own rage. These poems are the love child of Walt Whitman and Joan Jett, and they show a side of this country that's as real as that envisioned by Jefferson and his buddies. These poems don't sleep, ever."—David Kirby
 
"Krygowski's ferocious wit and no-nonsense truth-telling thrill and sting. Taught that 'tenderness was an apple and love a mouse's sharp teeth,' the girl who felt 'small and elsewhere' transforms into a flamboyant-voiced woman in the scorching present tense. Even looking back is less droopy nostalgia than an act of resistance. The Woman in the Corner is a woman who has lived, and struggled, and knows that struggle is often (though not always) beautiful."—Diane Seuss, author of Four-Legged Girl and Still Life with Two Dead Peacocks and a Girl