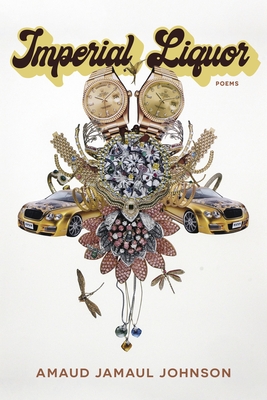 Imperial Liquor
Poems (Pitt Poetry Series)
Paperback

* Individual store prices may vary.
Description
Imperial Liquor is a chronicle of melancholy, a reaction to the monotony of racism. These poems concern loneliness, fear, fatigue, rage, and love; they hold fatherhood held against the vulnerability of the black male body, aging, and urban decay. Part remembrance, part swan song for the Compton, California of the 1980s, Johnson examines the limitations of romance to heal broken relationships or rebuild a broken city. Slow Jams, red-lit rooms, cheap liquor, like seduction and betrayal—what's more American? This book tracks echoes, rides the residue of music "after the love is gone."
 
Smokey
 
the most dangerous men
in my neighborhood
only listened to love songs
 
to reach those notes
a musicologist told me
a man essentially cuts
 
his own throat. some nights
even now, i'll hear a falsetto
and think i should run
Praise For Imperial Liquor: Poems (Pitt Poetry Series)…
"Vibrant and deeply felt, Johnson's collection combines contemporary verve with an astonishing breadth of history and culture." —Booklist Starred Review
 

"Johnson is a poetic alchemist, and in this collection he spells out the redemptive metaphysics of his aesthetic." —Cultural Weekly
 

"Johnson's themes—black masculinity, parenthood, shared struggle against injustice and antiblackness—now belong at the very center of 21st century American poetry. The Wisconsin-based writer's third volume stands out for the variety, the concision, and the allusiveness with which it embodies them." —National Book Critics Circle

"With a shaken lyric voice, Imperial Liquor burns going down. Like cities. Like the years spent trying to get along. Like the terror, anger, pain, and shame swallowed that Amaud Jamaul Johnson has uncapped here, poured out here, for kin and kith who came and went, his children, mine, the ones we were and are, the ones who raised us, the adults an empire's relentless thirst makes some of us too early. Johnson distills that here. A shattering achievement. It's eerie and terrible, no less than Beauty's dark miracle. It's Johnson's poetry. Sip this fire slowly." —Douglas Kearney

"There are countless models of black masculinity in America. Some are enshrined in pop culture while others collect dust in the archives of ivory towers. With Imperial Liquor, his third poetry collection, Amaud Jamaul Johnson arranges them, the familiar and the forgotten, with intense lyricism and formal dexterity, and in figures that lay bare the culture at America's core as well as the genius that produces it. Johnson is a crowd-pleaser, a hole-card-reader, a social critic and consummate chronicler of the Rap Age. He's got your number, don't sleep. You've got to peep this hustle, and delight." —Gregory Pardlo
 

"Johnson's poems cannot teach his children how to protect themselves—there are too many aggressors. Instead, his poems catalogue the many dangers they face and the impossibility of predicting what could assail them. Johnson's poems are also a testament to a father's longing to protect his children even while suspecting he will fail to do so." —The Poetry Foundation

"Johnson's poems show us what it means to care about others, how to love despite personal and social anxieties, and how drawing back memory's curtains reveals a world worth remembering and retelling." —The Cortland Review
University of Pittsburgh Press, 9780822966067, 70pp.
Publication Date: February 25, 2020
About the Author
A former Wallace Stegner Fellow in Poetry at Stanford University, Amaud Jamaul Johnson is a winner of the Hurston/Wright Legacy Award, the Edna Meudt Poetry Book Award, a Pushcart Prize, the Dorset Prize, and fellowships from the Bread Loaf Writers' Conference, the MacDowell Colony, and Cave Canem. Born and raised in Compton, California, he is professor of English at the University of Wisconsin-Madison, where he teaches in the MFA Program in Creative Writing.
or
Not Currently Available for Direct Purchase