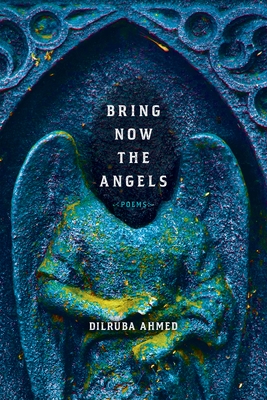 Bring Now the Angels (Paperback)
Poems (Pitt Poetry Series)
University of Pittsburgh Press, 9780822966074, 65pp.
Publication Date: April 14, 2020
* Individual store prices may vary.
Description
This collection juxtaposes text from Google Search autocomplete with the intimate language of prayer. Corporate jargon co-exists with the incantatory and ancient ghazal form. Ahmed's second book of poetry explores the terrain of loss—of a beloved family member, of human dignity & potential, of the earth as it stands, of hope. Her poems weave mourning with the erratic process of healing, skepticism with an unsteady attempt to regain faith.
With poems that are by turns elegiac, biting, and tender, Bring Now the Angels conveys a desire to move toward transformation and rebirth, even among seemingly insurmountable obstacles: chronic disease, corporate greed, environmental harm, and a general atmosphere of anxiety and violence.

BRING NOW THE ANGELS

To test your pulse as you sleep.
Bring the healer            the howler                    the listening ear—
 
Bring                an apothecary               to mix               the tincture—
            We need the salve
the tablet                      the capsule
            of the hour—                Bring sword-eaters
and those          who will swallow fire—
                                                Fetch the guardian
 
to flatten the wheelchair,
                                    to hoist it toward heaven:
the public shuttle awaits
                                    the ceaseless trips to the clinic.
To the bedside manner
                                    summon witness: this medic's
disdain toward patients              the physician's dismissal
                                    of pain—
And call the druggist, again, to drug us senseless—
 
Bring a nomad              to index our debts
            tuck      each invoice                 into broken walls
 
of regret—                    Call the cleric               the clerk
            the messengers divine—
About the Author
Dilruba Ahmed's debut book, Dhaka Dust, won the Bakeless Prize for Poetry awarded by the Bread Loaf Writers' Conference. Her poems have appeared in American Poetry Review, Blackbird, Kenyon Review, New England Review,Ploughshares and Poetry. Her poems have also been anthologized in The Best American Poetry 2019, Halal If You Hear Me, Literature: The Human Experience, Indivisible: An Anthology of Contemporary South Asian American Poetry, and elsewhere. Ahmed is the recipient of The Florida Review's Editors' Award, a Dorothy Sargent Rosenberg Memorial Prize, and the Katharine Bakeless Nason Fellowship in Poetry awarded by the Bread Loaf Writers' Conference.
Praise For Bring Now the Angels: Poems (Pitt Poetry Series)…
"In Bring Now the Angels, Dilruba Ahmed sings a complex song of loss: loss of a father, loss of a culture, and loss of country, both the original country and the one in which one is raised. In tightly-wound lyrics, Ahmed questions what it is to live in this present moment where loss seems to build almost hourly. With stringent rhetoric and beautiful imagery, Ahmed shows us what it means to be '[c]aught between one world / and the next . . .'"—C. Dale Young
 
"There are books of poetry whose service approaches public ritual of private feeling, Dilruba Ahmed's Bring Now the Angels is one of those books. It is a prayer to see more clearly one's grief and one's relationship to the vibrancy and complexity of parents and children and the natural world. This is a book that asks about neglect and regret in order to understand how we might care for the living and the dead. What a healing collection of poems Ahmed has given us." —Patrick Rosal
"Dilruba Ahmed's address in a poem feels so personal, one might look over one's shoulder a few times to see if she is watching. The "you" feels intimate, personal, immediate. Perhaps the late and great Jane Mead would be another voice that felt so warm and close. The "I" is familiar, the "he" and "she" and "they" feel like the people in my own life.  Where others might choose distance in order to address the painful decline of a parent, the difficulties of any life, Ahmed bends closer in, closer to the discomfort, to the wound, to the dying. I feel heard in these poems, seen and known. Ahmed has two of the greatest gifts of any poet—empathy and music, which is to say: song and heart."—Kazim Ali
Between the two poles of what Dilruba Ahmed has called her "ghost homeland and language" of Bangladesh and her years of childhood and adulthood in Ohio and Pennsylvania, she has created a generational meditation: parents, poet, children.  With the great clarity of her images and her eloquent articulation of complex feelings of loss and respite, grief and thankfulness, she has written a book of life.  At the center of it is the death of her father; this is also surrounded by other sorrows and vulnerabilities (especially of children) that all of us experience, yet Ahmed also expresses radiantly the blessed temporary recuperations and little resurrections of daily life.  Such memorable poems as her "Phase One," "Residue," "Incident," "With Affirmative Action and All," "Snake Oil," "Afterward," and "Paying the Coyote" unite body and spirit in a mood of profound and perpetual questioning.  In "Another Form of Skin," she writes, "I have hung on a clothesline / shirts so white that I / felt surrounded by clouds / or by the impossible words / of God."  
-–Reginald Gibbons, author of Last Lake