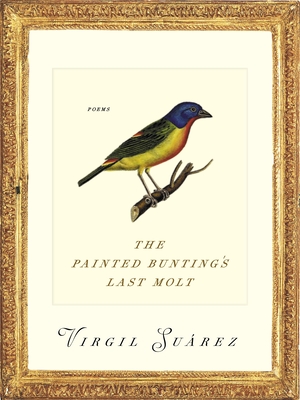 The Painted Bunting's Last Molt (Paperback)
Poems (Pitt Poetry Series)
University of Pittsburgh Press, 9780822966098, 80pp.
Publication Date: March 3, 2020
* Individual store prices may vary.
Description
The Painted Bunting's Last Molt explores fatherhood, parenting, and separation anxiety; and the ways in which time and memory are both a prison and a giver of joy. Fifteen years in the making, Virgil Suárez's new collection uses his mother's return to Cuba after 50 years of exile as a catalyst to muse on familial relationships, death, and the passing of time.
 
Moon Decima

If it were the Eucharist, it'd be hard to swallow,
this moon of lost impressions, a boy in deep water,
something tickling his skin.  This memory of weight-
lessness—a kite that somehow still manages to hover
in the dog mouth blackness of sky.  This is a cut out
moon of lost children, or is it a savior's moon?
This boy will float on home, or be swallowed
by the water.  Above the pines and mangroves,
this moon hangs unrelenting.  Is it the one eye
of an indifferent God that remains open just so?
About the Author
Virgil Suárez is the author of four novels, a collection of stories, two memoirs, and eight poetry collections, and he has coedited two anthologies with his wife, Delia Poey. Most recently, he has published an anthology of Latino poetry titled Paper Dance. Suárez is the recipient of a fellowship in poetry from the National Endowment for the Arts and a recipient of a Florida State Arts Grant.
Praise For The Painted Bunting's Last Molt: Poems (Pitt Poetry Series)…
"Virgil Suarez continues to sing the eternal songs of family and folklore, tragedy and triumph, elegy and hope in this brilliant collection that captures the psyche of immigrant, exile, and refugee. I continue to be inspired by his work that has mentored me for years, and still speaks to me and our collective identity as a nation still struggling to live up to our motto, out of the many, one."—Richard Blanco, Presidential Inaugural Poet and author of How to Love a Country
 
"Virgil Suárez is a poet of mythic powers. In The Painted Bunting's Last Molt, his myth-making infuses glorious poems of longing, love, and loss. Suarez's poetry is as profound as the sea he calls upon, tragic and wistful as all that is lost to the sea. He is adept at dredging history, politics, memory, dreams, and the complexities of birdsong, never resorting to sentimentality or easy answers as he questions everything, even the moon: 'Is it the one eye / of an indifferent God that remains open just so?' Suárez is by turns savvy and quick-witted, and ultimately wise."—Denise Duhamel
 
"Virgil Suarez's The Painted Bunting's Last Molt is a strong, vibrant, big-hearted book, as well-crafted, sensuous, and rich as a fine Cuban cigar—and good for you!  It's been about 15 years since Virgil Suarez's last collection of poems. The Painted Bunting's Last Molt marks his triumphant return."—Charles Harper Webb