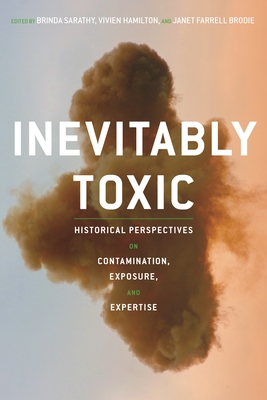 Inevitably Toxic (Paperback)
Historical Perspectives on Contamination, Exposure, and Expertise
University of Pittsburgh Press, 9780822966128, 280pp.
Publication Date: June 18, 2019
Other Editions of This Title:
Hardcover (10/23/2018)
* Individual store prices may vary.
Description
Not a day goes by that humans aren't exposed to toxins in our environment—be it at home, in the car, or workplace. But what about those toxic places and items that aren't marked? Why are we warned about some toxic spaces' substances and not others? The essays in Inevitably Toxic consider the exposure of bodies in the United States, Canada and Japan to radiation, industrial waste, and pesticides. Research shows that appeals to uncertainty have led to social inaction even when evidence, e.g. the link between carbon emissions and global warming, stares us in the face. In some cases, influential scientists, engineers and doctors have deliberately "manufactured doubt" and uncertainty but as the essays in this collection show, there is often no deliberate deception. We tend to think that if we can't see contamination and experts deem it safe, then we are okay. Yet, having knowledge about the uncertainty behind expert claims can awaken us from a false sense of security and alert us to decisions and practices that may in fact cause harm.
 
About the Author
Brinda Sarathy is a professor of Environmental Analysis and director of the Robert Redford Conservancy for Southern California Sustainability at Pitzer College. She holds a Ph.D. in Environmental Science, Policy, and Management from the University of California, Berkeley. In addition to the books, Pineros: Latino Labour and the Changing Face of Forestry in the Pacific Northwest(UBC Press, 2012) and Partnerships for Empowerment: Participatory Research for Community Based Natural Resource Management(Earthscan Press, 2008), Sarathy has published articles in Journal of Forestry, Society and Natural Resources, Policy Sciences, Race Gender & Class, and Local Environment.
Vivien Hamilton is an associate professor of history of science and director of the Hixon-Riggs Program for Responsive Science and Engineering at Harvey Mudd College. Her work examines the history of medical technologies, focusing on questions of authority, expertise and cross-disciplinary collaboration. She holds a PhD in history of science from the University of Toronto and is currently completing a book examining the role of physics in the early history of radiology. She is a member of the History of Science Society, The Canadian Society for the History and Philosophy of Science and the Society for the Social Studies of Science.
Janet Farrell Brodie is a professor of U.S. history at Claremont Graduate University. Her recent scholarship focuses on secrecy in the nuclear era with articles in the Journal of Diplomatic History and The Journal of Social History.. She is currently finishing a book about the history of the site of the first atomic bomb test in New Mexico and how it became a national historical landmark. She has a Ph.D. in history from the University of Chicago.