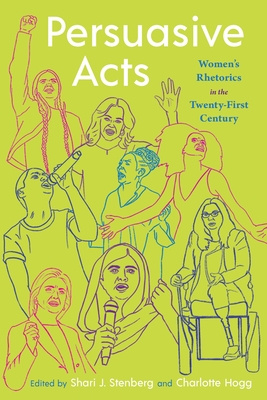 Persuasive Acts
Women's Rhetorics in the Twenty-First Century (Composition, Literacy, and Culture)
Paperback

* Individual store prices may vary.
Description
In June 2015, Bree Newsome scaled the flagpole in front of South Carolina's state capitol and removed the Confederate flag. The following month, the Confederate flag was permanently removed from the state capitol. Newsome is a compelling example of a twenty-first-century woman rhetor, along with bloggers, writers, politicians, activists, artists, and everyday social media users, who give new meaning to Aristotle's ubiquitous definition of rhetoric as the discovery of the "available means of persuasion." Women's persuasive acts from the first two decades of the twenty-first century include new technologies and repurposed old ones, engaged not only to persuade, but also to tell their stories, to sponsor change, and to challenge cultural forces that repress and oppress.

Persuasive Acts: Women's Rhetorics in the Twenty-First Century gathers an expansive array of voices and texts from well-known figures including Hillary Rodham Clinton, Malala Yousafzai, Michelle Obama, Lindy West, Sonia Sotomayor, and Chimamanda Ngozi Adichie, so that readers may converse with them, and build rhetorics of their own. Editors Shari J. Stenberg and Charlotte Hogg have complied timely and provocative rhetorics that represent critical issues and rhetorical affordances of the twenty-first century.
Praise For Persuasive Acts: Women's Rhetorics in the Twenty-First Century (Composition, Literacy, and Culture)…
"Persuasive Acts gathers women's voices in 21st-century theories and public writings. Assembling a chorus from Malala Yousafzai to Michelle Obama to Kimberle Crenshaw to Marjane Satrapi, this collection invites readers to contemplate women's engagement with education, labor, identity, bodies, politics, civic protest, etc. Extending recovery work of 20th-century scholars, Persuasive Acts is a significant resource for students, teachers and general readers."—Krista Ratcliffe, Arizona State University
 

"The 'persuasive acts' smartly gathered here just might save us. These 21st century women's voices come just in time. I (almost) regret retiring—I would love to teach students with this book."—Kate Ronald, co-editor of Available Means: An Anthology of Women's Rhetoric(s)
 
University of Pittsburgh Press, 9780822966135, 464pp.
Publication Date: March 3, 2020
About the Author
Shari Stenberg is Professor of English and Women's and Gender Studies at the University of Nebraska-Lincoln.
 
Charlotte Hogg is associate professor of English at Texas Christian University.