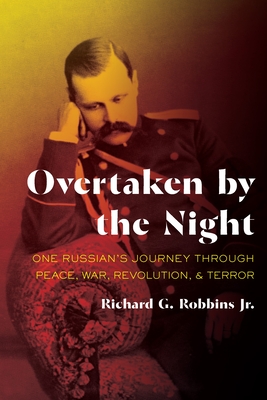 Overtaken by the Night
One Russian's Journey through Peace, War, Revolution, and Terror (Russian and East European Studies)
Paperback

* Individual store prices may vary.
Other Editions of This Title:
Hardcover (11/13/2017)
Description
Vladimir Fedorovich Dzhunkovsky was a witness to Russia's unfolding tragedy—from Tsar Alexander II's Great Reforms, through world war, revolution, the rise of a new regime, and finally, his country's descent into terror under Stalin. But Dzhunkovsky was not just a passive observer—he was an active participant in his troubled and turbulent times, often struggling against the tide. In the centennial of the Russian revolution, his story takes on special significance.

Highly readable, Overtaken by the Night captivates on many levels. It is a gripping biography of a man of many faces, a behind-the-curtain look at the inner workings of Russian politics at its highest levels, and also an engrossing account of ordinary Russians engulfed by swiftly moving political and social currents.

Dzhunkovsky served as a confidant in the tsar's imperial court and as governor in Moscow province during and after the 1905 revolution.  In 1913 he became the empire's security chief, determined to reform the practices of the dreaded tsarist political police, the Okhrana. Dismissed from office for daring to investigate and warn Tsar Nicholas about Rasputin, his path led him into combat on the battlefields of the First World War. A natural leader of men, he held his units together even as revolution spilled into the trenches. Arrested as a counterrevolutionary in 1918 and imprisoned until 1921, Dzhunkovsky avoided execution thanks to an outpouring of public support and his reputation for treating revolutionaries with fairness and dignity. Although later he consulted for the Stalinist secret police, he was tried and executed in 1938 as an enemy of the people.

Based on Dzhunkovsky's detailed memoirs and extensive archival research, Overtaken by the Night paints a fascinating picture of an important figure. Dzhunkovsky's incredible life reveals much about a long and crucial period in Russian history. It is a story of Russia in revolution reminiscent of the fictional Doctor Zhivago, but perhaps even more extraordinary for being true.
 
Praise For Overtaken by the Night: One Russian's Journey through Peace, War, Revolution, and Terror (Russian and East European Studies)…
"Overtaken by the Night
is an extremely detailed account of Vladimir Dzhunkovsky's life. His story spans not just one, but several of the most tumultuous periods in modern Russian history, and Robbins nicely positions Dzhunkovsky's life as a way to tell the story of the Soviet revolution from its inception to its bloody aftermath.  
Dzhunkovsky played prominent roles in some of Russia's most important history: World War I, the fall of the monarchy, the communist revolution, and Stalin's purges leading up to World War II.  
Along with Dzhunkovsky's public life, Robbins uses his memoirs and other historical sources to describe his personal life, from his early love for a married woman to his private thoughts on key intelligence operations.
Overtaken by the Night
is a long and thorough tome, a well-researched biography of a consistently influential Russian leader."
—Foreword Reviews
"The principal actors in the Russian revolution and the end of the monarchy are well studied. However, high-ranking functionaries such as Vladimir Dzhunkovsky (1865-1938), eventually promoted to head of the tzar's gendarmes, often receive little notice. Robbins extensively uses Dzhunkovsky's recently published memoirs to reconstruct the turbulent revolutionary era from the point of view of a nonprincipal actor; one devoted to the tzar but navigating the era while transitioning from statesman to noncitizen (lishentsy) status under Bolshevism. Robbins explains Dzhunkovsky's possible involvement with the counterintelligence effort Operation Trust in the 1920s, which identified anti-Bolsheviks. Though there is a lack of documentary evidence, that Dzhunkovsky, serving a five-year sentence, lived until the Great Purge of the 1930s gives rise to speculation by historians that he consulted with the secret police apparatus to root out counterrevolutionary groups. Later chapters illuminate the end of Russia's fight in World War II and offer more insights into the revolutionary struggle." VERDICT This new account will interest Russian historians and those just beginning to study Russian history.
—Library Journal
 
"To anyone wishing for an intelligent short course in the history of Late Imperial Russia and the turmoil of the Revolution broadly conceived, one linked to the life of a pillar of the Old Regime and exemplar of its best values, I recommend this book."
—
The Russian Review
"Richard G. Robbins follows clearly the long and complex life of Vladimir Dzhunkovskii, who held many positions in tsarist Russia, including supervisor of the political police. The book will be required reading for anyone interested in nineteenth-century policing and in dealing with radical movements. Robbins displays  literary flair and smoothly incorporates information from the Russian archives and Dzunkovskii's memoirs."
—Charles A. Ruud, Western University
University of Pittsburgh Press, 9780822966173, 544pp.
Publication Date: November 5, 2019
About the Author
Richard G. Robbins Jr. is professor emeritus of history at the University of New Mexico. He is the author of Famine in Russia, 1891-1892: The Imperial Government Responds to a Crisis and The Tsar's Viceroys: Russian Provincial Governors in the Last Years of the Empire.