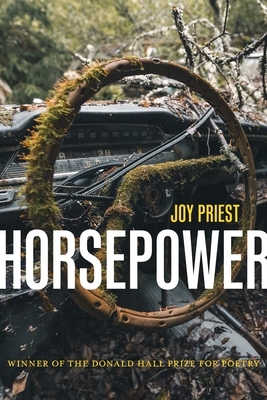 Horsepower (Paperback)
Poems (Pitt Poetry Series)
University of Pittsburgh Press, 9780822966197, 68pp.
Publication Date: September 22, 2020
* Individual store prices may vary.
Description
Priest's debut collection, Horsepower, is a cinematic escape narrative that radically envisions a daughter's waywardness as aspirational. Across the book's three sequences, we find the black-girl speaker in the midst of a self-imposed exile, going back in memory to explore her younger self—a mixed-race child being raised by her white supremacist grandfather in the shadow of Churchill Downs, Kentucky's world-famous horseracing track—before arriving in a state of self-awareness to confront the personal and political landscape of a harshly segregated Louisville. Out of a space that is at once southern and urban, violent and beautiful, racially-charged and working-class, she attempts to transcend her social and economic circumstances. Across the collection, Priest writes a horse that acts as a metaphysical engine of flight, showing us how to throw off the harness and sustain wildness. Unlike the traditional Bildungsroman, Priest presents a non-linear narrative in which the speaker lacks the freedom to come of age naively in the urban South, and must instead, from the beginning, possess the wisdom of "the horses & their restless minds."
 
 FROM "RODEO"
 
The four-wheeler is a chariot. Horse-wraiths
Kicking up a plume of spirits in the dirt behind us.
Her arms kudzu around my middle. Out here,
 
In the desert, everything is invisible.
Only the locusts' flat buzz gives
Them away. Everything native & quieting
 
Perennial & nighthawk black
As we ride through: the cowgirls,
The witch & the water sky-mirror-split,
 
The severity of squall lines. Also, the lips
Parting air like lightning & the girl
Blowing bubbles—in each one
                                                a rainbow.
About the Author
Joy Priest's work has appeared in ESPN, Gulf Coast, Mississippi Review, The Rumpus, Virginia Quarterly Review, and Best New Poets 2014, 2016, and 2019, among others. She is the recipient of support from the Fine Arts Work Center, The Frost Place, the Bread Loaf Writers' Conference, and the Hurston/Wright Foundation. Priest has facilitated poetry workshops with incarcerated juvenile and adult women, and has taught writing, comedy, and African American Arts & Culture at the university level. She received her MFA in poetry with a certificate in Women & Gender Studies from the University of South Carolina.
Praise For Horsepower: Poems (Pitt Poetry Series)…
"
Horsepowe
r, Joy Priest's debut collection, is a captivating display of might and elegance, a language of astonishing sinew through which the backdrop of place and a compelling life come into vivid focus. Undergirding these poems is a restless, resilient spirit: an urgent grappling with the desire to both remember and outrun the past, with history both personal and communal, and the complexities of American racism in its most intimate manifestation—familial love. Throughout this remarkable debut, Priest shows us what it means to clear the stall, break out of the traces, and run unbridled into life."—Natasha Tretheway  
"Through tragedy and triumph, Joy Priest's poems thunder in the ears like a supercharged heartbeat. Her landscapes drawn technicolor, intense with paradox and heat, devotion is indistinguishable from rage. Horsepower seethes with so much intelligence and feeling that comparisons to Hurston are inevitable. Jean Toomer also comes quickly to mind, but Priest's voice is one of a kind. Let these poems comfort you, if you dare, soft as the pillow that hides the gun."—Gregory Pardlo
"Horsepower tells what it is to be a bridge in one's family between racism and a love forged in defiance of racism; it tells what it is to need to both escape that role and embrace it. And, just as importantly, it tells the arrival of a powerful new poet, a poet to whose stories I will continue to listen."—Shane McCrae