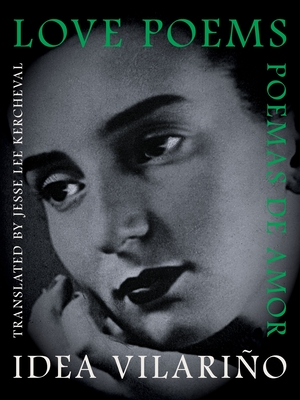 Poemas de amor / Love Poems (Pitt Poetry Series)
Paperback

* Individual store prices may vary.
Description
Eight years before Sylvia Plath published Ariel, the Uruguayan poet Idea Vilariño released Poemas del Amor, a collection of confessional, passionate poetry dedicated to the novelist Juan Carlos Onetti. Both of her own merit and as part of the Uruguayan writers group the Generation of '45—which included Onetti, Mario Benedetti, Amanda Berenguer, and Ida Vitale—Vilariño is an essential South American poet, and part of a long tradition of Uruguayan women poets.

Vilariño and Onetti's love affair is one of the most famous in South American literature. Poemas del Amor is an intense book, full of poems about sexuality and what it means to be a woman, and stands as a testament to both the necessity and the impossibility of love. This translation brings these highly personal poems to English speaking audiences for the first time side-by-side with the original Spanish language versions.

THE WITNESS
 
I don't ask you for anything
don't accept anything from you.
It's enough that you are
in the world
that you know I am
in the world
that you might be
To me, you might be
witness judge and god.
If not
what is it for.
 
Praise For Poemas de amor / Love Poems (Pitt Poetry Series)…
"A slender book, a slender set of poems to carry such weight. Readers will be amazed at how much passionate love, hate, joy, grief, loneliness, and anger inhabits these love poems to a single man over a period of years, he in exile, she trapped in Montevideo. Invoking 'a life burning to be pierced,' each of these brief poems is a gem, resembling the diamonds and diamond chips a refugee might sew into the hem of a coat, for survival purposes in crossing boundaries and borders—gems hard and luminous from within. Vilariño is a thrilling discovery for me; I am grateful to her remarkable translator, Jesse Lee Kercheval, as well. If we had more of Sappho, she might sound like Vilariño."—Alicia Suskin Ostriker
 

"Thanks to the tireless and remarkable translation work of Jesse Lee Kercheval, English-language readers can learn about this classic of Latin American poetry, Poemas de Amor. With a simple structure, rhythm, and poetic language, the Uruguayan Idea Vilariño makes one of the most complex approaches to the subject. These texts radically defy the conventions of courtly love and romanticism, and redefine love through the recognition of its strangeness, transience, and loss, as the awareness of the other." —Víctor Rodríguez Núñez
University of Pittsburgh Press, 9780822966258, 120pp.
Publication Date: October 6, 2020
About the Author
Idea Vilariño (1920 – 2009) was an Uruguayan poet and is still an essential figure in Latin American poetry. Poemas de Amor/ Love Poems is her best known book, which is dedicated to the Uruguayan novelist Juan Carlos Onetti.

Jesse Lee Kercheval is a poet, writer and translator whose translations include El puente invisible/ The Invisible Bridge: Selected Poems of Circe Maia. She is the Zona Gale Professor of English at the University of Wisconsin-Madison.