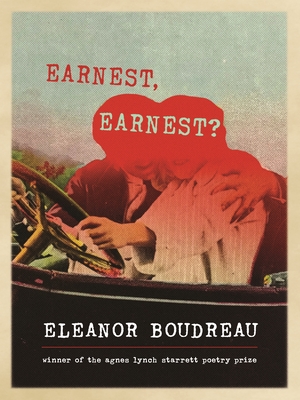 Earnest, Earnest?
Poems (Pitt Poetry Series)
Paperback

* Individual store prices may vary.
Description
In Earnest, Earnest?, the speaker, Eleanor, writes postcards to her on-again-off-again lover, Earnest. The fact that her lover's name is Earnest and that their relationship is fraught, raises questions of sincerity and irony, and whether both can be present at the same time. While Earnest can be read literally as Eleanor's lover, he is best understood as another side of the poet's self. The ambiguity at play in Earnest, Earnest? is embodied in the form of the "Earnest Postcards" that structure the book—these postcards are experimental in their use of images and formal in their dialogue with the sonnet. Thus, Earnest, Earnest? is a question of tone, address, and form.
 
from "You Marry a Man"

You marry a man and you think his blood is red.
Turns out it's not, it's purple.
 
This doesn't matter, is not why you married him,
but you did—you thought his blood was red.
 
And he has never read Shakespeare, knows nothing
of the quality of mercy, but he reminds you every
day that you are not Shakespeare.
 
You know you're not Shakespeare, Eleanor, he says.
Praise For Earnest, Earnest?: Poems (Pitt Poetry Series)…
"'Please forgive the public nature of this postcard' writes Eleanor Boudreau, spilling tea on love and its reckless participants. It's a wet business, like dry cleaning. It's a combination of two very elements held together in suspension, like smoke (or rubber?). And it is the thriving pulse of these desultory postcards from the edge of an affair's landscape of exile and afterhood. What a witty, glorious, and bittersweet book. I am here for all of it."—D.A. Powell
"Eleanor Boudreau's
Earnest, Earnest?
is made of the explosions and murmurings of an inner voice as a human mind tries to figure out intimacy, the edges of entities, the actualities of the world and of memory and, maybe especially,
tone
. . . is Earnest real, and is he actually earnest? We could ask ourselves about everything, forever. This is exactly the right question, I think."—Sarah Vap  
University of Pittsburgh Press, 9780822966302, 62pp.
Publication Date: September 8, 2020
About the Author
Eleanor Boudreau is a poet who has worked as a dry-cleaner and as a radio reporter. Her poems have appeared in American Poetry Review, Tin House, Barrow Street, Waxwing, Willow Springs, FIELD, Copper Nickel, and other journals. Currently, she is finishing her PhD and teaching creative writing at Florida State University.
or
Not Currently Available for Direct Purchase