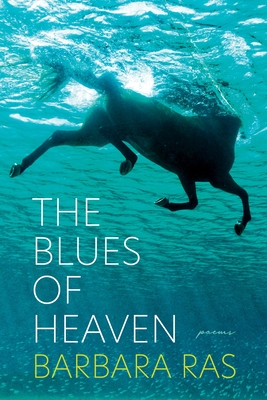 The Blues of Heaven
Poems (Pitt Poetry Series)
Paperback

* Individual store prices may vary.
Description
In The Blues of Heaven, Barbara Ras delivers her characteristic subjects with new daring that both rattles and beguiles. Here are poems of grief over her brother's death; doors to an idiosyncratic working-class childhood among Polish immigrants; laments for nature and politics out of kilter. Ras portrays the climate crisis, guns out of control, the reckless injustice and ignorance of the United States government. At the same time, her poems nimbly focus on particulars—these facts, these consequences—bringing the wreckage of unfathomable harm home with immediacy and integrity. Though her subjects may be dire, Ras also weaves her wise humor throughout, moving deftly from sardonic to whimsical to create an expansive, ardent, and memorable book.
Praise For The Blues of Heaven: Poems (Pitt Poetry Series)…
"
The Blues of Heaven
, by Barbara Ras, radiates with immense tenderness—here are poems of vivid painterly wonderment, perfect pacing and weight, elegantly woven counterpoints of shimmering imagery. How does she do this?  A book of infinite love and depth." 
—Naomi Shihab Nye
"The color blue (cobalt, baby, wan, damn, recklessly blue) in Barbara Ras's latest collection, The Blues of Heaven, is so exquisitely employed, it's hard not to gush. Her poetry remains as capacious, as endlessly curious as ever. By turns elegiac, nostalgic, and outraged, Ras gives us the world—'a blue ball spinning at a 1000 mph'—in all its glorious imperfection." —Ellen Bass
"The sweet and dark weight of being has never been more capably measured than in 
The Blues of Heaven. 
In poems about personal and national griefs, about the world at hand and the world that must be journeyed to, and about the creatures of creation and the tender, creatural self, Barbara Ras engages in acts of vision, ecstasy, and conscience. As the speaker in one poem declares, "I will work in fields of fire." And true, in the midst of a period in our human history that has been nearly unendurable, Ras has given us a book of extraordinary shining." 
—Rick Barot
There's no predicting where Ras will lead us in her tightly constructed, complexly valenced poems exploring memories, yearning, risk, and loss. She revels in inversions, startling images, curious facts, provocative settings, and unexpected juxtapositions. Case in point: the alluring title of her fourth collection, The Blues of Heaven, refers not to the sky but rather to a sight spied in the dark of the sea deep. When the speaker's gaze is celestial, she may see beauty or travesty: "the alarming shade / of the sun when it sets in the filth of our polluted skies." Ras' lyrics are mischievous and sorrowful, tender and scathing. She writes with graceful intimacy about music and silence, birds and dogs, loneliness and dissent, and with piercing protest about war and betrayal. She brings us into a fish house where the speaker waitressed as a young woman, and takes measure of the radiance and shadows shaping sojourns in Italy, Morocco, Mongolia, and Poland, her parents' homeland. Exquisitely personal in expressing grief for her late brother, Ras is expansive in her inquiries into consciousness, conscience, and compassion. — Donna Seaman-
Booklist-
Advanced Review
University of Pittsburgh Press, 9780822966548, 70pp.
Publication Date: March 9, 2021
About the Author
Barbara Ras is the author of the poetry collections Bite Every Sorrow (winner of the Walt Whitman Award and the Kate Tufts Discovery Award), One Hidden Stuff, and The Last Skin. She has received fellowships from the John Simon Guggenheim Memorial Foundation and the Rockefeller Foundation, among others. Her poems have appeared in the New Yorker, Tin House, Granta, and Orion, as well as in other magazines and anthologies. Ras has taught in the MFA Program for Writers at Warren Wilson College and at workshops nationally and internationally. She lives in San Antonio and is the founding director emerita of Trinity University Press.