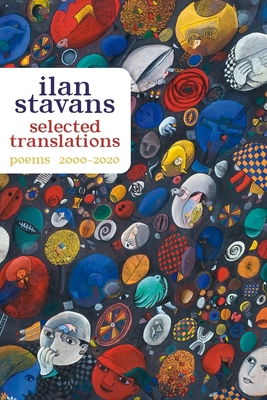 Selected Translations
2000-2020 (Pitt Poetry Series)
Paperback

* Individual store prices may vary.
Description
For twenty years, Ilan Stavans has been translating poetry from Spanish, Yiddish, Hebrew, French, Portuguese, Russian, German, Georgian, and other languages. His versions of Borges, Neruda, Sor Juana Inés de la Cruz, Ferreira Gullar, Raúl Zurita, and dozens of others have become classics. This volume, which includes poems from more than forty poets from all over the world, is testimony to a life dedicated to the pursuit of beauty through poetry in different languages.
Praise For Selected Translations: 2000-2020 (Pitt Poetry Series)…
"Stavan's Selected Translations could as well have been called: Delectable Translations. It shouldn't be noteworthy that almost half of the work is by women, but in the history  of literary anthologies, such attentiveness is rare. Another surprise: not only do we encounter Stavans' best known translations of Latin American poetry, but also his translations of poets from Belarus, Switzerland, Georgia, Spain, Poland, Russia, Israel, and other countries. That he translates the poems he feels closest to is obvious: this is a collection of gems. Reader, you are holding in your hand what you will come to call your favorite course in world literature." —Forrest Gander 
"What an extraordinary achievement. Here are exceptional new versions of foundational poems (by Akhmatova, Neruda, Lorca, Celan, Amichai, and others), alongside equally stunning work by less familiar poets. This book is not only a record of two decades of translation by one of our most brilliant and idiosyncratic writers: it is an essential anthology that belongs on the bookshelf of any serious reader of literature." —Matthew Zapruder
"The generous energy of Ilan Stavans' selected translations cries out from the 'body, with a quiet scream,' as his version of Yitzkhok Berliner's Yiddish 'Popocatépetl' has it. That body in this collection often seems to be the flesh and blood of language itself, or the languages that meet in Stavans the immigrant, the Jew, the writer— someone who lives in translation and believes with all his hybrid being that poetry is born of it. This is an anthology of potent affinities, 'abundant to the end.'" —Peter Cole
University of Pittsburgh Press, 9780822966609, 208pp.
Publication Date: February 23, 2021
About the Author
Ilan Stavans is Lewis-Sebring Professor of Humanities, Latin American and Latino Culture at Amherst College. He is the author and translator of numerous books, including The Seventh Heaven: Jewish Travels Through Latin America and The Wall.