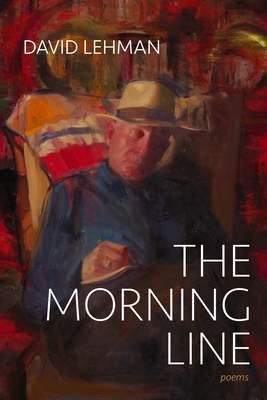 The Morning Line
Poems (Pitt Poetry Series)
Paperback

* Individual store prices may vary.
Description
The Morning Line is David Lehman's most ambitious book to date, combining wit, quotidian charm, and off-the-cuff spontaneity of poems written with candid and moving meditations on life, love, aging, disease, friendship, chance, and the possibility of redemption in a godless age.

Lehman is a poetic ventriloquist, and he expertly imitates Catullus and François Villon in new poems and offers his fresh translations of Mayakovsky's "Cloud in Trousers" and Hölderlin's "Half-Life." The element of joie de vivre in Lehman's work is distinctive and unusual in contemporary poetry. 
Praise For The Morning Line: Poems (Pitt Poetry Series)…
"David Lehman is a writer of many kinds of poetry, many kinds of prose, but whatever he writes is unmistakably his—and ours. Lehman lets us become who we are, which sounds as if it should be easy: we need him, and, until he writes even more,
The Morning Line
is his best book."
—James Longenbach, author of How Poems Get Made
"In The Morning Line, David Lehman engages us at his most companionable. His voice is inclusive and intimate, his intelligence inexhaustible, embracing subjects ranging from the perfect martini and accompanying jazz recording to profound questions of faith. Reading David Lehman is an antidote for loneliness." —John Hennessy, author of Coney Island Pilgrims
"
The Morning Line
arrives like some miraculous rendition of your favorite tune, only stylized and torqued to his jocular spirit and encyclopedic range. Buoyant, wildly funny, and terrifically alive, his poems summon that forgotten age where wit and learnedness reigned and the reader, enriched by a jetsetting speed, reemerged soulfully fortified."
—Major Jackson, author of The Absurd Man
University of Pittsburgh Press, 9780822966616, 96pp.
Publication Date: September 14, 2021
About the Author
David Lehman's books include One Hundred Autobiographies: A Memoir and Playlist: A Poem. He is the editor of The Oxford Book of American Poetry and series editor of The Best American Poetry. He has written nonfiction books about the New York School of poets, classic American popular songs, Frank Sinatra, and mystery novels, among other subjects.