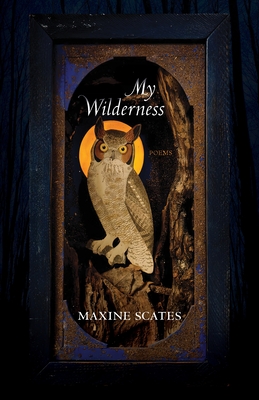 My Wilderness
Poems (Pitt Poetry Series)
Paperback

* Individual store prices may vary.
Description
The poems of My Wilderness often take place on the wooded hillside in Oregon where Maxine Scates has lived since the mid-1970s. They chronicle how the woods, which were once a refuge, have turned into a landscape of change where trees once numerous are now threatened by storm and the presence of the humans who live among them.  These poems also engage her partner's threatening illness, the death of her closest friend, and the death, at age one hundred, of her mother, an indomitable figure who led Scates through a working-class childhood in Los Angeles fraught with domestic violence. Grounded in the shifting borders of migrations and extinctions plant, animal, and human, of memory and grief, My Wilderness inevitably asks us to consider not only our own mortality but also our impact on the world around us.
Praise For My Wilderness: Poems (Pitt Poetry Series)…
"Scates's lyrical language and attention to detail ('dear little waterfall in June, / town still green in August, / snow unmelted in the mountains') make these ruminative poems a pleasure to read." —Publishers Weekly

"With frank detail and philosophical clarity, Scates addresses parental loss, the passage of time, and the pain of childhood abuse. The book is driven by sorrow, but it is also devotional, guided by a determination to comprehend the elusive presences of other people, beauty, life." —New Yorker
 

"With sumptuous detail, Maxine Scates exposes the amorphous dimensions of grief, immersing us in her wilderness of falling oaks, ice storms, hospitals, beloved dogs, and her mother's slow dying. At the same time, she never fails to give us the mystery of the possible. This is a poet I trust, a poet I want to follow, one so deft she can parse the difference between eternity and infinity, writing 'one has more light.' My Wilderness is rich, wandering, and true." —Anne Marie Macari, author of Heaven Beneath
 

"In My Wilderness, Maxine Scates has found a way to make grief a rich force and mysterious restorer, undistanced in its earthen visions, from who or what can't look back. Its natural world, lived in, tended, almost familial, is understood in the midst of its plunder, where her own losses resonate deeply. This is an exceptionally moving and caring book."  —William Olsen, author of  Technorage

"At one point in My Wilderness, her long-awaited new book, Maxine Scates baldly declares, 'I can't remember.' In fact, the one thing the narrator of these exceptional and original poems cannot do is forget. My Wilderness is an elegiac work composed of lavish narratives, which shift and turn restlessly between the dead, the living, the transitory, and the immemorial. Of the book's welter of landscapes—a 'maze of orchards,' the empty concrete waterways of Los Angeles, a town 'ringed by prisons,' Scates, summoning Ovid, declares 'everything / seems on its way to becoming something else.' My Wilderness is a grave and beautiful archive of losses, and Scates the diligent, urgent, vivid archivist." —Lynn Emanuel, author of The Nerve of It

"What can be better than poems teeming with understory, of yearning, empathy, and grief? The rarity of this book is its willingness to enact mystery without grasping after resolution or uncorking wisdom, to hold space for the unsayable. These poems demonstrate the urgency of seeing—the motherland, the mother—and the numinous presence of what is felt but can't be seen. The final sequence is a masterful rendering of mother loss, an arc of unmitigated sublimity." —Diane Seuss, author of  frank:  sonnets
University of Pittsburgh Press, 9780822966630, 112pp.
Publication Date: October 12, 2021
About the Author
Maxine Scates is the author of three previous collections of poetry, Undone, Black Loam, and Toluca Street. She is coeditor, with David Trinidad, of Holding Our Own: The Selected Poems of Ann Stanford. Her poems have appeared widely in such journals as the American Poetry Review, Agni, the New Yorker, Ploughshares, and Poetry. Her poetry is the recipient of two Pushcart Prizes, the Agnes Lynch Starrett Poetry Prize, and the Oregon Book Award for Poetry.
or
Not Currently Available for Direct Purchase