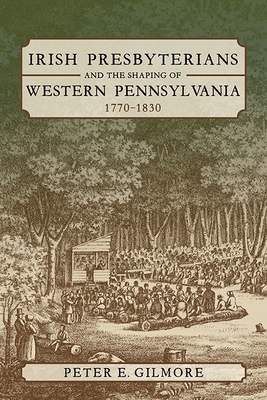 Irish Presbyterians and the Shaping of Western Pennsylvania, 1770-1830
Paperback

* Individual store prices may vary.
Description
Irish Presbyterians and the Shaping of Western Pennsylvania, 1770–1830 is a historical study examining the religious culture of Irish immigrants in the early years of America. Despite fractious relations among competing sects, many immigrants shared a vision of a renewed Ireland in which their versions of Presbyterianism could flourish free from the domination of landlords and established church. In the process, they created the institutional foundations for western Pennsylvanian Presbyterian churches.

Rural Presbyterian Irish church elders emphasized community and ethnoreligious group solidarity in supervising congregants' morality. Improved transportation and the greater reach of the market eliminated near-subsistence local economies and hastened the demise of religious traditions brought from Ireland. Gilmore contends that ritual and daily religious practice, as understood and carried out by migrant generations, were abandoned or altered by American-born generations in the context of major economic change. 
Praise For Irish Presbyterians and the Shaping of Western Pennsylvania, 1770-1830…
"Peter Gilmore has written a finely-textured book that shatters myths as it reconstructs a community that we thought we had known. This first-rate study uncovers the fascinating story of how an elusive group of Irish migrants, in a dynamic period of American history, defined themselves as a people and recast their faith lives. In doing so, they shaped the world around them."—
Patrick Griffin, University of Notre Dame
"In Peter E. Gilmore's deft handling, the Irish Presbyterians of western Pennsylvania appear not as the hard-drinking, hard-fighting, fiercely insular and individualistic Scots Irish of today's popular culture but as serious, hardworking immigrants who built farms, formed communities, and created congregations in a new land where they disciplined themselves through the institutions of the church and responded vigorously to the market revolution and reform movements transforming American life in the early nineteenth century. Anyone interested in the Irish and Scots Irish in America will need to read this book."
—Warren Hofstra, Shenandoah University
"In this fine book, Peter Gilmore pierces through that veil of legend to show readers the stuff of day-to-day existence in Scots-Irish communities. . . . the chapters add up to a richly textured portrait of an ethno­religious community to which there was more than usually meets historians' eyes. Gilmore's Presbyterians turn out to be just as interesting-and more real-than the Scots-Irish they replace." 
—Pennsylvania Heritage
"Whereas older studies of Scots Irish immigration and of early American Presbyterianism often conclude in 1776, Gilmore emphasizes that far more Ulster immigrants came to the New World in the half-century following the American Revolution than before, and he argues persuasively that their contributions to the development of Presbyterianism in the United States were at least as important as those of their predecessors, who led the First Great Awakening of the 1730s-40s. Gilmore's book is both a fine example of immigration/ethnic history and an important study of American religious history. . . . readers of both Gilmore's book and his earlier essays, cited in the notes, may garner an even more thorough appreciation of the complex history of western Pennsylvania's Irish Presbyterians."
—Journal of Social History 
"A rigorously researched and extremely readable study that offers a refreshing and long overdue insight into the beliefs and practices of Presbyterians of Irish origin in North America. . . . It is essential reading for those interested in the development of Presbyterianism in North America, but also has much to offer those with interests in women's history and the history of the family more broadly."
—
Irish Historical Studies
"Gilmore's book provides an excellent exploration of the contribution of Irish immigrants to the development of Presbyterianism in western Pennsylvania in the early national period. In doing so, he reveals much about the characteristics of this immigrant group and the ways in which they tried to 'build a new Ulster in the transappalachian backcountry'." 
—Familia, Ulster Historical Review
"Gilmore distinguishes himself as serious scholar of the archives. . . . [
Irish Presbyterians
is] well-researched and meticulously documented."
—Journal of the Early Republic
"An impressively researched study, it will surely be the definitive work on the subject."
—Pennsylvania Magazine of History and Biography
University of Pittsburgh Press, 9780822966678, 216pp.
Publication Date: October 13, 2020
About the Author
Peter E. Gilmore is a ruling elder at Sixth Presbyterian Church in Pittsburgh, and serves on the Commission for Preparation of Ministry of the Pittsburgh Presbytery. He has taught at several Pittsburgh universities, and previously served as staff writer and editor for UE News, the official publication of the United Electrical, Radio, and Machine Workers of America. He teaches history at Carlow University, Carnegie Mellon University, and the University of Pittsburgh.