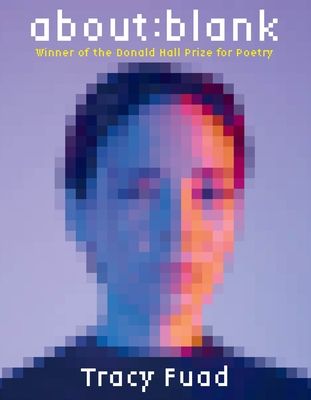 about:blank
Poems (Pitt Poetry Series)
Paperback

* Individual store prices may vary.
Description
In about:blank, Tracy Fuad builds a poetics of contemporary dissociation. Funny, plaintive, and cutting, this formally inventive debut probes alienation in place and in language through the author's consideration of her own relationship to Iraqi Kurdistan. about:blank—the title of which is the universal URL for a blank web page—complicates questions of longing and belonging. Interrogating the language of internet chatrooms, Yelp reviews, and the Kurdish dictionary, the poems here leap surprisingly between subjects to find new meaning.

Written before and during the years the author spent living in Iraqi Kurdistan, the collection documents the alienation of being inside, outside, and between language(s) and the always-already terror of grammar. At once haunted and humorous, about:blank inhabits and exhibits the disorientation and fragmentation that is endemic to the internet era, and mourns the loss of a more embodied existence.
Praise For about:blank: Poems (Pitt Poetry Series)…
"For all her experimentation, Fuad is anchored to the complexities of her Iraqi Kurdish heritage, even as gentrification changes the region. . . . The submergence of identity richly complicates this poet's promising debut." —Booklist

"The poems bare the authoritative structures that control or muzzle identity, language, and borders. Fuad's writing is elegant and active, firmly asserting her own powers of expression, a voice that is resilient, exciting, and one we'll be reading in years to come." —Chicago Review of Books

"Like Venn diagrams, these poems overlap the poet's Kurdish positionality with cyberfeminist codes, seeking possible relations and pathways of communication. Half-written sentences, abandoned thoughts, stutters, and impenetrable utterances exist alongside detailed and astute observances, plaintive statements of loneliness, joy, or frustration. Like the course of a life, not every moment in this innovative collection yields to its reader; but about:blank's collective force trembles with formal brilliance and originality." —Claudia Rankine, Donald Hall Prize for Poetry judge

"Tracy Fuad has an overflowing, overwhelming gift, and to receive it is to perceive, in glimmers, a  faraway song sung intimate, a difficult place made home. As far as this poet travels, her heart ventures ever further, like a stone skipped for the reader to glimpse what depths and thirsts lie ahead. about:blank is part love letter, part letter to the editor of this warring and scarred world—the poet's tether to it a braid of desire, devotion, abjection. This book will travel with me, as love travels a soul, always finding some new way to be." —Brenda Shaughnessy, author of The Octopus Museum

"Tracy Fuad's about: blank powerfully explores languages driven to the margins by our inexorable march towards progress. She chronicles the Kurdish ruins that evidence occupation or the evolution of words like buttons that can describe the domestic to weapons of mass destruction. She elegizes the exile of our sentient bodies in this anthropocene era of digital capitalism. Her monostix lines are glitchy content streams, haunting as they are present, deadly funny as they are deadly serious. Fuad's poetry is absolutely unsettling and breathtaking." —Cathy Park Hong, author of Minor Feelings: An Asian American Reckoning
University of Pittsburgh Press, 9780822966685, 96pp.
Publication Date: October 19, 2021
About the Author
Tracy Fuad is the author of PITH, winner of the Gloria Anzaldúa Prize, and DAD DAD DAD DAD DAD DAD DAD. Her work has appeared in Poetry, the Best New Poets Anthology, the New Republic, and elsewhere. She is a graduate of the Rutgers-Newark MFA program and  a 2021–2022 Writing Fellow at the Providence Fine Arts Work Center.