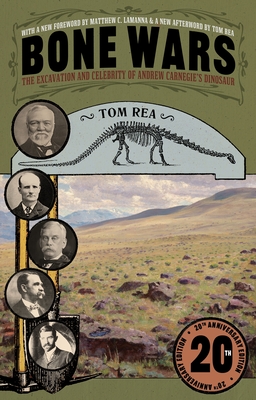 Bone Wars
The Excavation and Celebrity of Andrew Carnegie's Dinosaur, Twentieth Anniversary Edition
Paperback

* Individual store prices may vary.
Other Editions of This Title:
Paperback (5/16/2004)
Hardcover (10/11/2001)
Description
With a New Foreword by Matthew C. Lamanna and a New Afterword by Tom Rea
Less than one hundred years ago, Diplodocus carnegii—named after industrialist and philanthropist Andrew Carnegie—was the most famous dinosaur on the planet. The most complete fossil skeleton unearthed to date, and one of the largest dinosaurs ever discovered, Diplodocus was displayed in a dozen museums around the world and viewed by millions of people. Bone Wars explains how a fossil unearthed in the badlands of Wyoming in 1899 helped give birth to the public's fascination with prehistoric beasts. Rea also traces the evolution of scientific thought regarding dinosaurs and reveals the double-crosses and behind-the-scenes deals that marked the early years of bone hunting. With the help of letters found in scattered archives, Tom Rea recreates a remarkable story of hubris, hope, and turn-of-the-century science. He focuses on the roles of five men: Wyoming fossil hunter Bill Reed; paleontologists Jacob Wortman—in charge of the expedition that discovered Carnegie's dinosaur—and John Bell Hatcher; William Holland, imperious director of the recently founded Carnegie Museum; and Carnegie himself, smitten with the colossal animals after reading a story in the New York Journal and Advertiser. What emerges is the picture of an era reminiscent of today: technology advancing by leaps and bounds; the press happy to sensationalize anything that turned up; huge amounts of capital ending up in the hands of a small number of people; and some devoted individuals placing honest research above personal gain.
Praise For Bone Wars: The Excavation and Celebrity of Andrew Carnegie's Dinosaur, Twentieth Anniversary Edition…
"Charming, and especially good in telling the story of the minutiae of the field work. . . . This is an area in the history of fossil extraction that has not been closely studied before, and Tom Rea's book is valuable for the presentation of local details from Wyoming that might pass another historian by." —Times Literary Supplement
"A lively, perceptive account of just how much more there was to the 'heroic age' of dinosaur hunting than simply finding and identifying bones. Anyone who wants to understand paleontology and the sensational present-day conflicts over fossil resources should read it." —David Rains Wallace, author of The Bonehunter's Revenge
University of Pittsburgh Press, 9780822966708, 288pp.
Publication Date: September 14, 2021
About the Author
Tom Rea, who grew up in Pittsburgh admiring the dinosaurs at the Carnegie Museum of Natural History, lives in Casper, Wyoming, with his family. Now a freelance writer and editor, for a dozen years he covered politics, education, and science for the Casper Star-Tribune, Wyoming's largest newspaper.