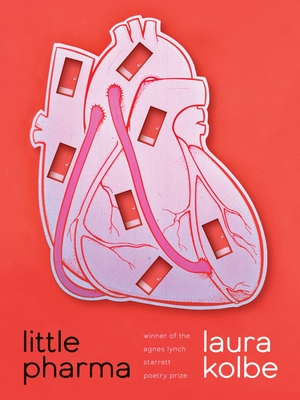 Little Pharma
Poems (Pitt Poetry Series)
Paperback

* Individual store prices may vary.
Description
Winner of the 2020 Agnes Lynch Starrett Prize for Poetry
Praise For Little Pharma: Poems (Pitt Poetry Series)…
"Combining the urgent immediacy of a live performance with the close-up scrutiny of the microscope, the poems in Laura Kolbe's dazzling Little Pharma expose the façade of false economies (pharmaceutical, medical, societal, artistic, sexual) by trafficking instead—with wit, candor, and enviable savvy—in the currency of vulnerability.  Little Pharma is just one antic, shape-shifting figure who moves with acutely attentive velocity through the collection's hospital corridors, operating theaters, rustbelt highways, bedrooms, and all manner of meta-texts (Leibnitz, meet Lady Macbeth; Marianne Moore, meet Kevin McCallister)—in short, through any experience entailing risk.  What Kolbe says about textile artist Anni Albers in a poem of homage could well be a description of her own praxis and poetic gifts: 'to bury shapes, / to fling them up again –this is you / as hellhound on the treadle, but slow, / picking the meat rib by rib. / Sleep, sleep. Row down.  The teeth / of all ratchets spin oxblood for you, / the whip-roll tight on your rare materials.'" —Lisa Russ Spaar

"In Laura Kolbe's deft hands, a poem becomes a tool for peering closely into what is often concealed. Her poems are vivid explosions of language, thought, and wit, and to read her poems is to encounter a voice seeking to see and name the world accurately—and in so doing understand our condition. America can count itself lucky to have a rich tradition of doctor-poets; Little Pharma's addition to the canon makes us luckier still, by anatomizing encounters with mortality and a technocratic medical system with generosity, verve, and insight. An extraordinary first collection." —Meghan O'Rourke
University of Pittsburgh Press, 9780822966722, 96pp.
Publication Date: October 5, 2021
About the Author
Laura Kolbe is a writer as well as a physician and assistant professor of internal medicine at NewYork-Presbyterian/Weill Cornell Medical Center. She studied English and American literature at Harvard and at Jesus College, University of Cambridge, before studying medicine at the University of Virginia and completing her medical residency at Brigham and Women's Hospital in Boston. Her poems, essays, and stories have appeared in Poetry, American Poetry Review, Conjunctions, The New York Review of Books, The Washington Post, and The Yale Review. This year her clinical work and views on patient care during COVID-19 were highlighted in The New Yorker's "April 15, 2020: A Coronavirus Chronicle," in coverage by the New York Times ("When am I Coming Home"?: A Tough Month Inside a Virus Recovery Unit"), and on the podcasts Thresholds with Jordan Kisner, The New Yorker Radio Hour ("A City At the Peak of Crisis") and This Is Your Brain with Dr. Phil Stieg ("COVID's Invisible Bullet"). She co-created Weill Cornell Medical Center's COVID Palliative Care and Hospice Unit, and its COVID Recovery Unit, both among the first of their kind in the United States. Her essay "Cannon Fodder" appears in A World Out of Reach: Dispatches from Life Under Lockdown," (ed. Meghan O'Rourke, Yale University Press).