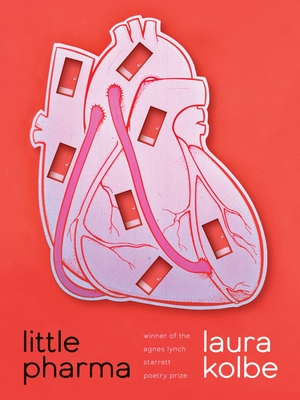 Little Pharma
Poems (Pitt Poetry Series)
Paperback

* Individual store prices may vary.
Description
The title Little Pharma is both a doppelgänger and a cri de coeur: as the poet's dreamlike double, the character Little Pharma navigates the murky channels of the hospital and clinic, the borderlands of the living and the dead, and the journey from novice to healer. At the same time, the poems plead for a return to a littler pharma, a space for stolen intimacy and momentary quiet amid the impersonal and engulfing chill that floods the anatomical theater and the corridors of illness. Little Pharma is a Dantean journey from the depths of an institution, and of a pervading personal dread, to a renewed celebration of human contact, the body, and the giddy, terrifying excitement of ongoing life.
Praise For Little Pharma: Poems (Pitt Poetry Series)…
"In Laura Kolbe's deft hands, a poem becomes a tool for peering closely into what is often concealed. Her poems are vivid explosions of language, thought, and wit, and to read her poems is to encounter a voice seeking to see and name the world accurately—and in so doing understand our condition. An extraordinary first collection."
—Meghan O'Rourke, author of Sun In Days and The Long Goodbye
"Combining the urgent immediacy of a live performance with the close-up scrutiny of the microscope, the poems in Laura Kolbe's dazzling
Little Pharma
expose the façade of false economies (pharmaceutical, medical, societal, artistic, sexual) by trafficking instead—with wit, candor, and enviable savvy—in the currency of vulnerability." 
—Lisa Russ Spaar, author of Orexia and Vanitas, Rough
"The speakers of this searching work erode the sham certainties of institutional logic to accommodate ghosts. Laura Kolbe writes a scintillating metaphysical poetry lit by 'the anatomist's awe of layers' through dazzling strata of perception. Her imagination is a fuller form of attention, a means of seeing not only what is but what what is implies, reflects, calls forth through sensuous correspondence." —Margaret Ross, author of A Timeshare
University of Pittsburgh Press, 9780822966722, 128pp.
Publication Date: October 26, 2021
About the Author
Laura Kolbe is a doctor and medical ethicist at New York–Presbyterian/Weill Cornell Medical Center. She studied English and American literature at Harvard and the University of Cambridge. Her work has been anthologized in A World Out of Reach. She lives in Brooklyn with her partner Andrew and their dog Bonnie.