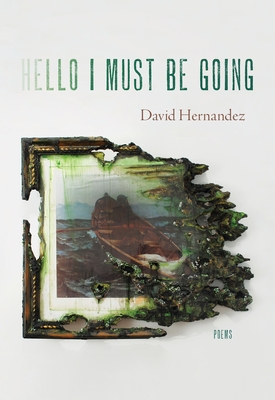 Hello I Must Be Going
Poems (Pitt Poetry Series)
Paperback

* Individual store prices may vary.
Description
Hello I Must Be Going, David Hernandez's fifth collection of poems, offers a unique take on poetry informed by works of art, in particular the work of artist Ed Ruscha. With narrative and lyrical brushstrokes, Hernandez crafts vibrant landscapes that depict the chaos of the modern world and the beauty entwined within it. Hello I Must Be Going pulses with originality. This is a book of our time, and of time itself—of unrest, loss, grief, and "this endless parade / shimmering toward silence."
Praise For Hello I Must Be Going: Poems (Pitt Poetry Series)…
"I've read David Hernandez for twenty years, but only with this terrific new book am I realizing he is one of our generation's leading California poets. Whether philosophical, playful, or political, his language is guided by generosity and wonder. He explores the shifting landscapes and shifting cultural grounds underfoot. Beneath his laid-back West Coast charm, he lays bare the intensities of modern life. Hello I Must Be Going is a book of irreducible wisdom and witness." —Terrance Hayes, author of American Sonnets for My Past and Future Assassin
 

"Between the hello and the going lies the shadow—and the poem. In this compelling new collection, David Hernandez writes poems that tumble forward so intensely they rattle our teeth, and others that are nearly frozen in anticipatory grief. This collection offers up the choices we contend with in an era of 'obliterating despair.' Fret or sleepwalk, or take the world in through the senses, taste the fruit, 'despite.'" —Diane Seuss, author of frank: sonnets
 
University of Pittsburgh Press, 9780822966807, 64pp.
Publication Date: March 22, 2022
About the Author
David Hernandez is the author ofDear, Sincerely; Hoodwinked, winner of the Kathryn A. Morton Prize in Poetry; Always Danger, winner of the Crab Orchard Series Award; and A House Waiting for Music. He has been awarded an NEA Literature Fellowship and two Pushcart Prizes. His poems have appeared in Kenyon Review, Poetry, Ploughshares, Southern Review, and The Best American Poetry. He is also the author of two YA novels, No More Us for You and Suckerpunch, both published by HarperCollins. David teaches creative writing at California State University, Long Beach and is married to writer Lisa Glatt.