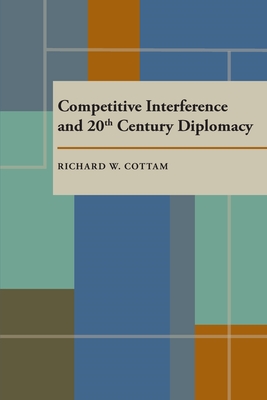 Competitive Interference and Twentieth Century Diplomacy (Paperback)
University of Pittsburgh Press, 9780822983996, 248pp.
Publication Date: September 15, 1967
* Individual store prices may vary.
Description
With nuclear proliferation essentially eliminating full-scale warfare, governments have increasingly turned to what Richard W. Cottam calls competitive interference. This type of policy invokes counter-insurgency, political, economic, and psychological manipulations, and often involves looking deeply into the internal affairs of a country, often secretly. Cottam describes and defines competitive interference, explores the United States' institutional adjustment to it, and provides a theoretical framework for projection and evaluation of foreign policy in this changing diplomatic arena. He uses case studies of international relationships involving the United States, India, China, Vietnam, Iran, and the former USSR and East Germany to evaluate his theoretical stance, and proposes long-term institutionalization of policy, rather than covert operations.
About the Author
Richard W. Cottam was professor of political science at the University of Pittsburgh.
Praise For Competitive Interference and Twentieth Century Diplomacy…
"An important contribution to the literature of American foreign policy. . . . A final quality worthy of note is Professor Cottam's use of data and findings from the area studies field. . . . It would be difficult to underestimate the value of the specific findings that someone familiar with a foreign area can bring to the analysis and study of international politics. More efforts of this kind would be welcomed, for they help to refute the popular criticism that theory must, for all time, be abstract and remote from reality."
—Political Science Quarterly
"The marriage of history and political theory has been long delayed, and exponents of the separate disciplines have had their problems with methodology and terminology. In this work the author has made another of the valiant attempts to correlate experience and conjecture in order to understand the past and work more effectively for control of the future. . . . [His work] deals ambitiously with one of the more pressing problems of our time and is stimulating and original in many of its precepts."
—American Historical Review
or
Not Currently Available for Direct Purchase