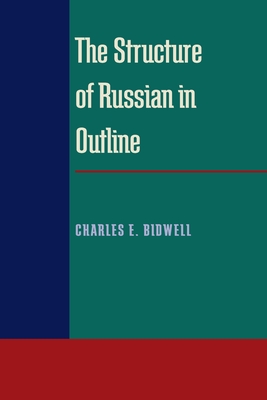 The Structure of Russian in Outline (Paperback)
University of Pittsburgh Press, 9780822984153, 144pp.
Publication Date: January 15, 1970
* Individual store prices may vary.
Description
A brief, structurally oriented reference grammar of Russian for use by advanced students, Slavicists, and linguists, Bidwell's guide can also be used as a text for courses on the linguistic structure and grammar of the Russian language.

Bidwell offers an original phonemic analysis and, breaking with traditional grammars, treats the language as primarily and basically a spoken phenomenon with the grammatical description based solidly on the spoken forms. Divided into three sections, focusing on the phonemics, morphology, and syntax, The Structure of Russian in Outline aims to give a coherent and concise account of the sounds, forms, and constructions of the Russian language, treating the whole as an integrated system structured on hierarchical levels.

About the Author
Charles Bidwell was professor of linguistics and Slavic linguistics at the University of Pittsburgh. He is co-author of Modern Russian I, an audio-lingual text prepared under the sponsorship of the U.S. Office of Education.