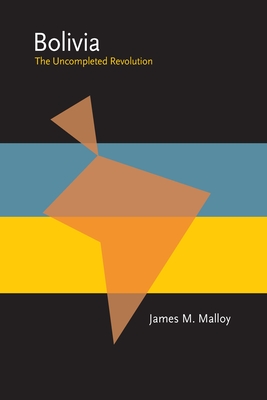 Bolivia (Paperback)
The Uncompleted Revolution (Pitt Latin American Series)
University of Pittsburgh Press, 9780822984238, 406pp.
Publication Date: October 15, 1970
* Individual store prices may vary.
Description
The first book-length analysis of the Bolivian revolution by an American political scientist explains the events of 1952 as a Latin American case study, and links the theme of the revolution with other contemporary insurrections in underdeveloped countries. Combining narrative excitement and scholarly analysis, the book pinpoints sources of weakness and stress in the Bolivian old order, with particular attention to the effects of uneven economic developments in the first two decades of the twentieth century. It then focuses on the stormy years after 1936 that led up to the insurrection of April 9-11, 1952. Finally, it examines attempts of the revolutionary government to promote economic development between 1952 and November 1964, when it was overthrown.
About the Author
Now retired, James M. Malloy was professor of political science at the University of Pittsburgh.
Praise For Bolivia: The Uncompleted Revolution (Pitt Latin American Series)…
"This is a valuable contribution to the rapidly growing body of literature that has thrown light on the previously neglected modern history of Bolivia. . . . Malloy beings a political scientist's perspective to the fascinating and complex problems of that paradoxical nation, and its social revolution. It is a credit to his insight that his interpretations often 'ring true' and complement those of anthropologists, economists, historians, and others who have studies the revolution from different perspectives."
—The Americas
"Professor Malloy has developed a fascinating causal argument or theory of revolution: multiple dysfunction plus elite intransigence plus accelerators equals a revolutionary situation and possibly a revolution. . . . This penetrating analysis is quite well written and documented and a welcome addition to the literature."
—The Annals of the American Academy of Political and Social Sciences
"This is one of a growing list of books on the Bolivian Revolution of 1952, one of the three most basic revolutions to take place in Latin America in the 20th century. It is certainly one of the best."
—The American Political Science Review
or
Not Currently Available for Direct Purchase