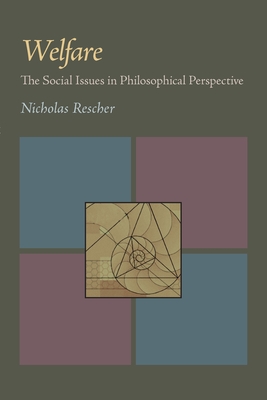 Welfare (Paperback)
The Social Issues in Philosophical Perspective
University of Pittsburgh Press, 9780822984368, 198pp.
Publication Date: January 15, 1972
* Individual store prices may vary.
Description
Nicholas Rescher examines the controversial social issue of the welfare state, and offers philosophical thoughts on the limits and liabilities of government and society. Questioning some of the principal assumptions of democratic theory and classical liberalism, Rescher theorizes that the current system is not a be-all end-all, but rather a necessity with limited scope that will ultimately fail to achieve its objectives. He further purports that the welfare state must be a transitional phase to a more affluent postindustrial society-a satisfying life, rather than an adequate one.
About the Author
Nicholas Rescher is Distinguished University Professor of Philosophy at the University of Pittsburgh and co-chairman of the Center for Philosophy of Science. A member of the American Academy of Arts and Sciences, he has served as president of the Eastern Division of the American Philosophical Association, the Leibniz Society of North America, the Charles S. Peirce Society, the American Catholic Philosophical Association, and the Metaphysical Society of America. Rescher is the author or editor of more than one hundred books, including Ignorance (On the Wider Implications of Deficient Knowledge), Philosophical Inquiries: An Introduction to Problems of Philosophy, and A Journey through Philosophy in 101 Anecdotes.