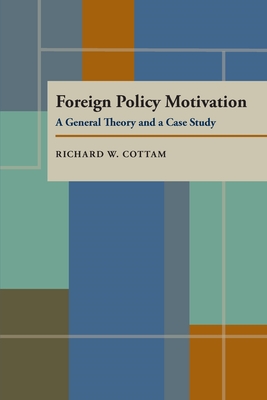 Foreign Policy Motivation
A General Theory and a Case Study
Paperback

* Individual store prices may vary.
Description
Foreign policy motivation is a complex mix reflecting the fears and aspirations of publics, interest groups, bureaucratic sets, and important individuals. International conflict cannot be resolved without resolving how foreign policy is motivated. This book presents a conceptual framework for identifying and weighing foreign policy motives that shape, direct, and alter foreign policy.
Praise For Foreign Policy Motivation: A General Theory and a Case Study…
"Cottam presents brief but telling critiques of a number of widely recognized approaches to foreign policy motivation. . . . Cottam has successfully challenged some grossly oversimplified and potentially misleading assumptions that have been widely accepted and frequently acted upon virtually up to the present. Beyond this, he has also dealt successfully with several of the pernicious problems that must be confronted in the pursuit of a more developed general theory."
—American Political Science Review
"Cottam works on two levels-the theoretical and the historical: the first half of the book attempts to systematize the motivational, perceptual, and purposed aspects of policy making; the second half focuses upon the British occupation of Egypt. . . . His faith, findings, and propositions together make this book what he hoped it would be: a combined contribution to and stimulus toward more systematic attempts at a theory of peace."
—Library Journal
University of Pittsburgh Press, 9780822984573, 384pp.
Publication Date: January 15, 1977
About the Author
Richard W. Cottam was professor of political science at the University of Pittsburgh.