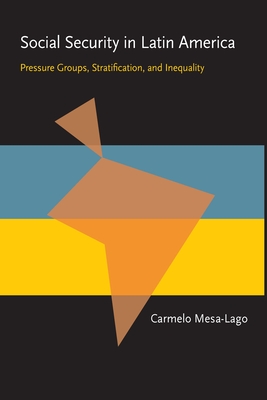 Social Security in Latin America (Paperback)
Pressure Groups, Stratification, and Inequality (Pitt Latin American Series)
University of Pittsburgh Press, 9780822984689, 372pp.
Publication Date: November 15, 1978
* Individual store prices may vary.
Description
A comprehensive and sophisticated study of the relationship between social security policy and inequality in Latin America. Individual case studies of Chile, Uruguay, Peru, Argentina, and Mexico are presented, that provide a historical analysis of each country's social security policy, the pressure groups involved, the present structure of the systems, and a statistical examination of the inequality among these pressure groups.
About the Author
Carmelo Mesa-Lago is professor emeritus of economics at the University of Pittsburgh.
Praise For Social Security in Latin America: Pressure Groups, Stratification, and Inequality (Pitt Latin American Series)…
"Any social scientist who consciously sets out to explore, to understand, and to compare the social security systems of five Latin American nations deserves simultaneously to be encouraged and cautioned. . . . Yet Carmelo Mesa-Lago has not only undertaken the job; he has done so thoroughly, rigorously, and usefully. Nor is his study simply descriptive; on the contrary, it is a truly comparative exercise that presents enormous amounts of detail on each country and then compares them vis-à-vis degree, scope, and depth of coverage."
—American Political Science Review
"This is an unusually comprehensive study of the historical evolution, the politics, and the comparative attainments of social security legislation in five Latin American countries: Chile, Uruguay, Peru, Argentina, and Mexico, from colonial and even pre-Columbian antecedents to the mid 1970s."
—Journal of Economic Literature
"The approach is interdisciplinary, drawing on history, economics, political science, and law. The methodology is systematic comparison: diachronic, intranational, and cross-national. . . . Judged by criteria of topical importance and scholarly competence, [the book is] the most significant and innovative contribution on comparative policy in Latin America to appear in recent years."
—Hispanic American Historical Review
or
Not Currently Available for Direct Purchase