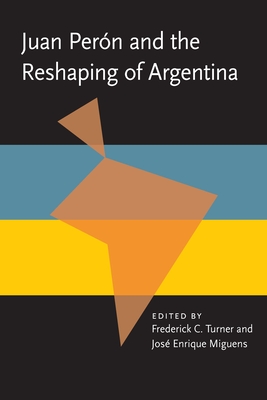 Juan Peron and the Reshaping of Argentina (Pitt Latin American Series)
Paperback

* Individual store prices may vary.
Description
Although Juan Perón changed the course of modern Argentine history, scholars have often interpreted him in terms of their own ideologies and interests, rather than seeing the effect of this man and his movement had on the Argentine people. The essays in this volume seek to uncover the man behind the myth, to define the true nature of Perónism. Several chapters view Perón's rise to power, his deposition and eighteen-year exile, and his dramtic return in 1973. Others examine: opposing forces in modern Argentina, including the church and its role in politics; the conflict between landed stancieros and urban industrialists, terrorist activities and their popularist support base; Peronism and the labor movement; and Evita Perón's role in advancing the political rights of women.
Praise For Juan Peron and the Reshaping of Argentina (Pitt Latin American Series)…
"The book has a wealth of statistics and surveys' data, which make it very useful for those who intend to interpret Argentina's reality. . . . Unlike so many other scholarly books on Peronism, Juan Perón and the Reshaping of Argentina mixes a solid socio-political academic background with a well-planned and presented series of approaches to a multifaceted and difficult theme."
—New York City Tribune

"The book will be of value to professionals and graduate students interested in Argentina, Peronism, and populism, and several chapters would make excellent assigned reading for undergraduate or graduate courses-especially the chapters on Evita, incomes policy, religion, and voting patterns."
—American Political Science Review

"The essays serve both historical insight and current concerns, and cover a full range of economic, political, and social aspects, including the memorable and unique Evita. A solid and deserving book."
—Foreign Affairs
University of Pittsburgh Press, 9780822984900, 284pp.
Publication Date: May 15, 1983