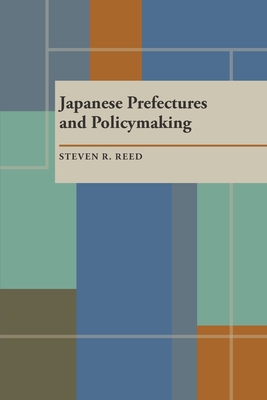 Japanese Prefectures and Policymaking (Paperback)
University of Pittsburgh Press, 9780822984979, 208pp.
Publication Date: July 15, 1986
* Individual store prices may vary.
Description
In this book, Steven R. Reed argues that studying only central administrations and national-level politics yields a picture of greater rigidity than actually exists in modern governments. There is not a simple dichotomy between centralization and local autonomy: many different relationships between levels of government are possible. Reed illustrates his point in nine detailed case studies in which he analyzes the governments of three of Japan's forty-seven prefectures. Reed interviews over one-hundred officials to reveal the innovative policymaking that exists at the local level.

Reed compares how each prefecture addresses pollution control, public housing, and access to the best high school education, and concludes that despite some inefficiency in the system, the results are usually very good. Japan's prefectures are important sources of governmental flexibility and responsiveness.
About the Author
Steven R. Reed is professor of modern government, Chuo University, Hachioji, Japan.
Praise For Japanese Prefectures and Policymaking…
"This small volume makes important contributions to both Japanese and comparative studies in the neglected but important field of intergovernmental relations. . . . The excellent review of the postwar evolution of local government shows that while the Occupation-imposed decentralized system suffered a 'reverse course' to become fairly docile and reliant on the national government for policy and support in the drive for economic development, it was not up to the prewar level of centralization."
—Pacific Affairs
"We have in Reed's study an exceptionally enlightening . . . approach to studying policymaking. It is systematic, lucid, and often very insightful. Best of all, it is well written throughout."
—Journal of Japanese Studies
"[Reed] evaluates the distribution of influence in Japanese intergovernmental relations through detailed case studies of three policy areas (pollution control, housing, and high-school education). . . . His major findings are that neither legal nor financial authority is necessarily related to influence; that control over information does make a difference; that the substantive merits of a case can provide effective leverage in intergovernmental negotiating; that the least-interested party in a venture often exerts the greatest influence; but that, in the end, the single most important factor accounting for influence is politics."
—American Political Science Review
or
Not Currently Available for Direct Purchase