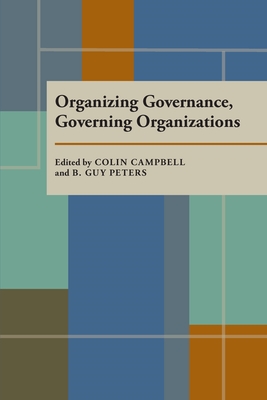 Organizing Governance, Governing Organizations (Paperback)
University of Pittsburgh Press, 9780822985037, 400pp.
Publication Date: April 15, 1988
* Individual store prices may vary.
Description
In recent years, Western bureaucracies have continued to expand, but are citizens better served? In this volume, sixteen contributors analyze the problems of government organization, both in individual cases and in a broader comparative context.
Contributors:  Joel D. Aberbach; Peter Aucoin; Richard A. Chapman; Michael G. Hansen; Peter Hennessy; Brian W. Hogwood; Mohammad Mohabbat Kahn; Ulrich Klöti; Charles H. Levine; Johan P. Olsen; Bert A. Rockman; Richard Rose; Norman C. Thomas; John Warhurst; and the editors.
About the Author
 Colin Campbell is Canada Research Chair in US Government and Politics at the University of British Columbia.
B. Guy Peters is Maurice Falk Professor of American Politics at the University of Pittsburgh.
Praise For Organizing Governance, Governing Organizations…
"Across the globe, government organizations are under continual pressure to change. One has only to scan the year-end reports of a cross-section of government bureaucracies to be impressed by the ubiquity and continuity of organizational change. Does all of this structural change matter? . . . On the one hand, the contributors believe that structural and organizational variables do have an impact on performance and outcomes. On the other hand, they exhibit a healthy skepticism that a self-evident, consensual, or clean link between organizational reforms and performance can be established. These essays nicely illuminate the complexities of this tension. They also provide evidence that the outgrowth of struggling with this belief-doubt dilemma is creative thinking and problem solving."
—Public Administration Review
"A useful addition to the literature on comparative government and especially for students of political executives and public policy administration.  Its strength lies in its breadth of coverage, both in terms of countries and concerns."
—Canadian Journal of Political Science
"This collection of essays represents a valuable effort to stimulate renewed concern for government structure as an independent variable affecting government performance."
—Perspective
or
Not Currently Available for Direct Purchase