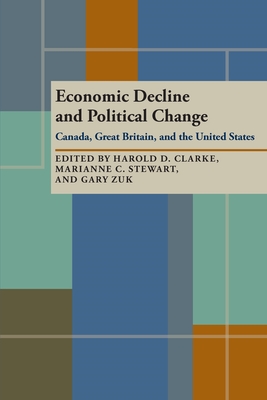 Economic Decline and Political Change (Paperback)
Canada, Great Britain, the United States
University of Pittsburgh Press, 9780822985167, 304pp.
Publication Date: April 15, 1989
* Individual store prices may vary.
Description
In the 1970's, an "age of affluence" ended abruptly in Canada, Great Britain, and the United States. Skyrocketing inflation, persistent unemployment, and sluggish growth became new, oppressive realities for government and citizens alike. This book examines the changes that occurred in economic policymaking on the governmental level and the public's response to such changes. This timely collection of essays sheds light on the political economy of three of the world's oldest democracies in an era of economic distress and uncertainty.
About the Author
Harold D. Clarke is professor of political science, University of North Texas.
Marianne C. Stewart is assistant professor of government, politics, and political economy at the University of Texas at Dallas.
Gary Zuk is assistant professor of political science, Auburn University
Praise For Economic Decline and Political Change: Canada, Great Britain, the United States…
"This is an eminently informative and highly accessible collection of essays which offers a diversity of analytical approaches to the study of the relationships between the polity and the economy in the United States, Great Britain and Canada."
—Governance
"Think of the 1970s, and images may include 'gas lines,' 'plant closures,' 'stagfration,' 'unemployment,' and an 'energy crisis.' The significance of this unlucky decade was in what it interrupted: the most prosperous period in Western history. The economic upheaval ran against the decades-long assumption of a continually expanding economy under the management of good state policy. . . . The articles in Economic Decline and Political Change are well grounded theoretically and well researched. The book's case studies, showing how 'political change' occurs in a climate of economic crisis, are a welcome addition to current political economy literature."
—Journal of the American Planning Association
"A contribution worthy of careful scrutiny. First, the authors highlight an important aspect of design so often ignored-they distinguish between Anglo-American and Continental democracies. Second, they provide critical perspectives on the often ignored psychological dimensions that forge a public's commitment to and support for those responsible for securing economic growth and prosperity."
—Choice
or
Not Currently Available for Direct Purchase