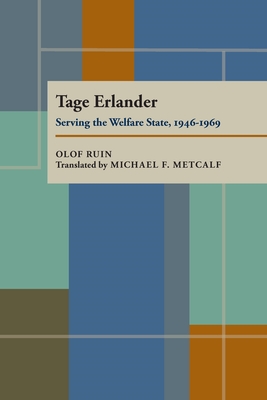 Tage Erlander
Serving the Welfare State, 1946-1969
Paperback

* Individual store prices may vary.
Description
Prime minister of Sweden and leader of the Social Democratic party from 1946-1969, Tage Erlander enjoyed a career that was remarkable both for its major accomplishments and longevity. Under his leadership, Sweden became an exemplary welfare state following World War II. Universal pensions, child support, health insurance, extended paid vacations, subsidized housing, and many other benefits made Sweden's standard of living the envy of the world.

This definitive political biography is both the study of an individual style of leadership and the role of the prime minister in a parliamentary state. It shows Erlander as a complex and engaging intellectual fiercely loyal to his party, agitative yet dedicated to cooperation between parties.

Olof Ruin analyzes Erlander's various roles as Riksdag caucus leader, cabinet organizer, party leader, promoter of domestic consensus, and foreign policy maker. Ruin is the first scholar to be given unrestricted access to Erlander's diaries.
 
Praise For Tage Erlander: Serving the Welfare State, 1946-1969…
"Olof Ruin's Tage Erlander: Serving the Welfare State, 1946-1969 is both a political biography of Sweden's longest serving prime minister and a history of the golden age of the Swedish welfare state--and perhaps that of Swedish Social Democracy as well. Based on Erlander's diaries, correspondence, speeches, and interviews, this well-crafted volume demonstrates that political scientists can write good history."
—Scandinavian Studies
"Tage Erlander was a central, if not the central, figure in the formation of the postwar Swedish welfare state. . . . Olof Ruin has written an engaging and affectionate biography of Erlander that has been extremely well translated into English by Michael Metcalf. The biography tells a great deal about Erlander, but it also tells a great deal about governing Sweden and about the task of governing more generally. Ruin's book is required reading for students of Swedish politics, as well as for students of the executive branch of government."
—Governance
"This is an authoritative biography of Sweden's 'longest prime minister'-six foot four, and twenty-three years continuously in charge. . . . A sympathetic but not adulatory portrait, professionally structured around the various roles which Erlander has to play. . . . A very readable study of an extraordinarily successful politician."
—Political Studies
University of Pittsburgh Press, 9780822985235, 380pp.
Publication Date: April 24, 1990
About the Author
Olof Ruin is professor emeritus of political science at Stockholm University.