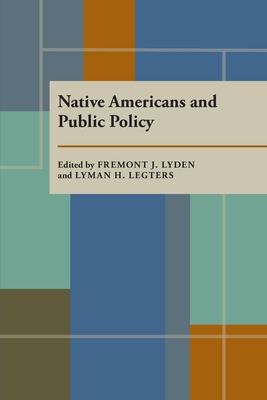 Native Americans and Public Policy (Paperback)
University of Pittsburgh Press, 9780822985396, 344pp.
Publication Date: April 15, 1992
* Individual store prices may vary.
Description
Native Americans, who are recognized simultaneously as sovereign tribal groups and as American citizens, present American society and its policy-making process with a problem fundamentally different from that posed by other ethnic minorities. In these essays, the contributors discuss the historical background, certain pathologies of Indian-white relations, questions of legal sovereignty and economic development, and efforts to find new ways of successfully resolving recent controversies.
Contributors:  Gary C. Anders; Russel Lawrence Barsh; Guillermo Bartelt; Duane Champagne; Ward Churchill; Michael J. Evans; M. Annette Jaimes; Anne McCullogh; C. Patrick Morris; Nicholas C. Peroff; Kurt Russo; Dave Somers; Richard W. Stoffle; Ronald L. Trosper; Steven Zubalik; and the editors.
About the Author
Fremont J. Lyden is professor of public affairs and adjunct professor of political science at the University of Washington.
Lyman H. Legters is a senior fellow at the William O. Douglas Institute in Langley, Washington.
Praise For Native Americans and Public Policy…
 "This book takes into account the uniqueness of Native American communities and separates them from the past solutions offered for other 'minority populations.' . . . This thought-provoking collection should be included in all academic libraries and in the personal collections of students of twentieth-century Indian policy."
—American Indian Quarterly
"This text is essential reading for students of government and constitutional law, as well as Native American studies. . . . The book ends with a possible model for future policy decisions. . . . [that] requires a rigorous analysis of Native American public policy and the building of an operational definition of sovereignty."
—Left Coast Review
"This volume admirably unites articles reviewing a variety of developments involving national policies, cultural perceptions, and environmental, economic, legal, and business considerations."
—Environmental History Review
or
Not Currently Available for Direct Purchase