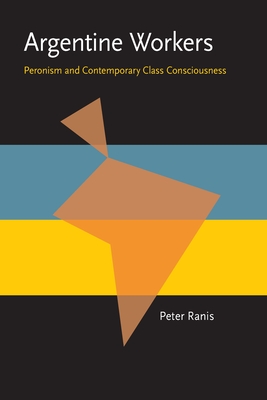 Argentine Workers (Paperback)
Peronism and Contemporary Class Consciousness (Pitt Latin American Series)
University of Pittsburgh Press, 9780822985402, 332pp.
Publication Date: June 15, 1992
* Individual store prices may vary.
Description
Argentine Workers provides an insightful analysis of the complex combination of values and attitudes exhibited by workers in a heavily unionized, industrially developing country, while also ascertaining their political beliefs. By analyzing empirical data, Ranis describes what workers think about their unions, employers, private and foreign enterprise, the economy, the state, privatization, landowners, politics, the military, the "dirty war" and the "disappeared," the Montonero guerillas, the church, popular culture and leisure pursuits, and their personal lives and ambitions.
About the Author
Peter Ranis is professor emeritus of political science at the Graduate Center of the City University of New York.
Praise For Argentine Workers: Peronism and Contemporary Class Consciousness (Pitt Latin American Series)…
"Peter Ranis has given his readers a picture of the attitudes of Argentine workers during the administration of Raúl Alfonsín and drawn larger conclusions about working class consciousness. . . . For those interested in the Argentine working class and in the larger questions of class identity this is an important book."
—The Americas
"A good work of social science should address relevant issues, advance important theoretical debates, and convey new information. Argentine Workers does each of these things. . . . [It] is an innovative work that points a sympathetic and engaging portrait of the people who make up one of the world's most politically powerful trade union movements."
—Journal of Politics
"A very good book indeed-not only essential reading for all those interested in Argentina, but also of great interest to those interested in the general political sociology of the working class. . . . If there is one criticism of the book, it is one that the author will sure welcome: the reader is left wishing it had been longer."
—Latin American Research Review