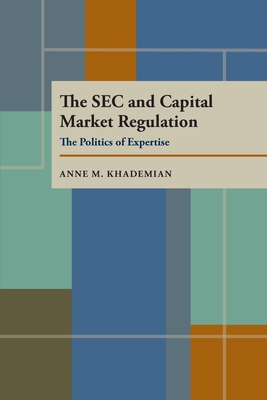 The SEC and Capital Market Regulation
The Politics of Expertise
Paperback

* Individual store prices may vary.
Description
Anne M. Khademian addresses the significance of the SEC for securities policy and uses the agency as a model for the study of bureaucracy and bureaucratic theory. She examines the interaction of bureaucrats, politicians and the White House, and connects early debates in the field of public administration with the contemporary arguments of rational choice scholars concerning independence.

The classic tension within U.S. federal agencies is between the need to hold bureaucrats politically accountable to elected officials and the need to delegate complex decision making to officials with "independent" expertise. In the SEC this tension is especially pronounced because of the agency's dependence on attorneys and economists. Khademian traces the development of a regulatory strategy from the creation of the SEC by FDR in 1934 to the present, examines the roles of SEC experts and their political overseers in Congress as they create policy, and evaluates the stability of that policy. Her study reveals how the tug-of-war between demands for accountability and giving freedom to expertise has affected the agency's evolution and its regulatory activities.

 
Praise For The SEC and Capital Market Regulation: The Politics of Expertise…
"[Khademian] has written an animated, sophisticated, and accessible analysis of securities regulation-a field dominated by narrow specialists and securities lawyers. The SEC and Capital Market Regulation [is] one of the definitive works on securities regulation appealing to a broad audience. It is also a welcome addition to a growing number of analyses of regulatory decision-making and administration. It should be required reading for anyone attracted to, or disturbed by, prevailing models of political control and bureaucratic decision-making."
—American Political Science Review
"Thorough and well-written. . . . A compelling story of how the SEC operates. . . . Professor Khademian's book is one of the very few academic works concerning the securities industry that offers a new insight into our business. It is particularly worthwhile for those of us in the industry who are not primarily involved in the compliance area."
—Securities Industry Management
"Not only does this work contribute to a general understanding of bureaucratic policy-making, but it is an excellent discussion of the workings of the SEC. Recommended to all libraries and to all students from undergraduate through graduate level."
—Choice
University of Pittsburgh Press, 9780822985464, 292pp.
Publication Date: November 15, 1992
About the Author
Anne M. Khademian is associate professor in the Center for Public Administration at Virginia Polytechnic Institute and State University.