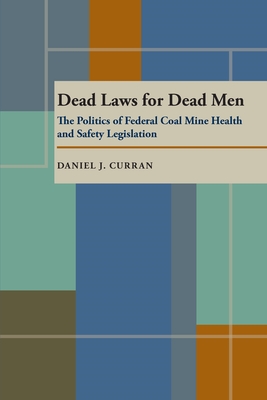 Dead Laws for Dead Men
The Politics of Federal Coal Mine Health and Safety Legislation
Paperback

* Individual store prices may vary.
Description
This account of the struggle for coal mine health and safety legislation in the U.S. examines the series of laws that steadily expanded the role of the federal government from the late 1800s through the 1980s. Curran concludes that federal legislation has done little to improve change conditions in the coal mines.
Praise For Dead Laws for Dead Men: The Politics of Federal Coal Mine Health and Safety Legislation…
"The persistence of unhealthy and unsafe working conditions in the late twentieth century is a depressing fact of life for working people generally, and miners in particular. . . . Why the cycle of disaster, inquiry, recommendations, and reform brings so little amelioration is the subject of Daniel J. Curran's excellent monograph on the history, and current practice, of federal occupational health and safety regulation in the United States coal-mining industry."
—Law and History Review

"An unsettling book. Curran's message is that concerted efforts to use the law to regulate working conditions in this very dangerous industry have failed. It is also an illuminating book. Curran skillfully exposes political, economic, and social forces that . . . paralyze efforts to implement legislative remedies."
—Work and Occupations


"The book integrates changing theories of the state, the shifting role of labor, and the transformation of the work process into a larger understanding of the evolution of legislation. . . . a very useful book."
—Journal of American History
University of Pittsburgh Press, 9780822985471, 224pp.
Publication Date: January 15, 1993
About the Author
Daniel J. Curran, a sociologist by training, is president of the University of Dayton.