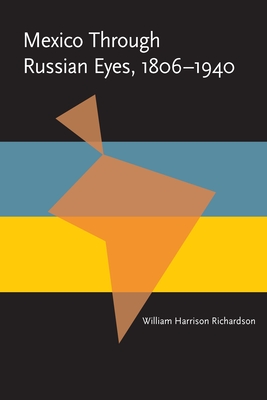 Mexico Through Russian Eyes, 1806-1940 (Pitt Latin American Series) (Paperback)
University of Pittsburgh Press, 9780822985716, 304pp.
Publication Date: January 15, 1988
* Individual store prices may vary.
Description
In this unique book, William Richardson analyzes the descriptions given of Mexico by an assortment of Russian visitors, from the employees of the Russian-American Company who made their first contacts in the early nineteenth century to the artists, diplomats, and exiles of the twentieth century. He explores the biases they brought with them and the interpretations they relayed back to readers at home. Richardson finds that Russians had a particular empathy for the Mexicans, sharing a perceived similarity  in their histories: conquest by a foreign power; a long period of centralized, authoritarian rule; an attempt at liberal reform followed by revolution.
About the Author
William Harrison Richardson is dean of the College of Humanities and Fine Arts at Coastal Carolina University.
Praise For Mexico Through Russian Eyes, 1806-1940 (Pitt Latin American Series)…
"Professor Richardson has assembled an interesting assortment of Russian literature, film, and travel accounts in order to analyze Russian views of Mexico. Much of it is new to readers of English and Spanish because Richardson consulted an impressive collection of Russian material from published and archival sources."
—History Reviews of New Books
"Students of either Mexico or Russia will find much of interest in this well-organized insightful book."
—Slavic Review
"A painstaking, interesting and well-written study on a little known but important subject. The author uses first-hand Russian accounts to show that in the early part of the 19th century Russian contacts with Mexican California were close. The later accounts show Russian diplomats such as Mayakovsky as shrewd and perceptive observers of the Mexican scene even though ideologically biased particularly in comparing the Mexican Revolution with their own."
—British Bulletin of Publications