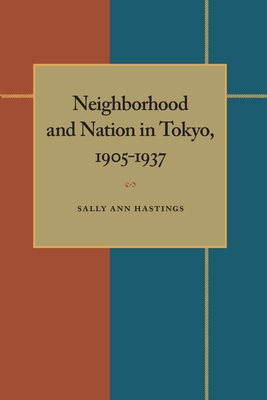 Neighborhood and Nation in Tokyo, 1905–1937 (Paperback)
University of Pittsburgh Press, 9780822985778, 274pp.
Publication Date: July 15, 1995
* Individual store prices may vary.
Description
In this pre-World War II analysis of working-class areas of Tokyo, primarily its Honjo ward, Hastings shows that bureaucrats, particularly in the Home Ministry, were concerned with the needs of their citizens and took significant steps to protect the city's working families and the poor. She also demonstrates that the public participated broadly in politics, through organizations such as reservist groups, national youth leagues, neighborhood organizations, as well as growing suffrage and workplace organizations.
About the Author
Sally Ann Hastings is associate professor of history and director of the Asian Studies Program at Purdue University.
Praise For Neighborhood and Nation in Tokyo, 1905–1937…
"Hastings has given us a rich and revealing account of the urban Japanese experience in the prewar decades from the point of view of ordinary residents, as well as urban administrators and policy-makers."
—Japanese Studies
"This imaginative book brings to light the positive aspects of the political process in early twentieth-century Japan and stresses the continuity of this process before and after the Pacific War. . . . It is a richly detailed account, culled from an impressive array of primary and secondary materials and offering the reader a clear sense of the interface between residents and private and public institutions."
—The Historian
Explores the history of welfare and political participation in the poor, densely populated, industrial ward of Honjo in east Tokyo, where there existed virtually every conceivable social problem associated with rapid industrial development and urban growth. . . .a valuable book that offers new perspectives on prewar Japan while vividly conveying what life was like in a significant urban setting."
—Monumenta Nipponica
or
Not Currently Available for Direct Purchase