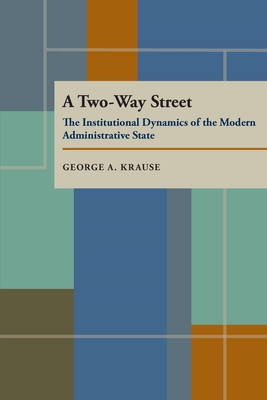 A Two Way Street (Paperback)
The Institutional Dynamics of the Modern Administrative State
University of Pittsburgh Press, 9780822985891, 224pp.
Publication Date: September 15, 1999
Other Editions of This Title:
Hardcover (9/9/1999)
* Individual store prices may vary.
Description
One of the central questions of political science has been whether politicians control the bureaucracy, or whether the bureaucracy possesses independent authority from democratic institutions of government. Relying on advanced statistical techniques and case studies, George Krause argues instead for a dynamic system of influence—one allowing for two-way interaction among the president, congress, and bureaucratic agencies. Krause argues that politicians and those responsible for implementing policy respond not only to each other, but also to events and conditions within each government institution as well as to the larger policy environment. His analysis and conclusions will challenge conventional theoretical and empirical wisdom in the field of administrative politics and public bureaucracy.
About the Author
George A. Krause is professor of political science at the University of Pittsburgh.
Praise For A Two Way Street: The Institutional Dynamics of the Modern Administrative State…
"Krause has made a significant contribution to our understanding of presidential-congressional-bureaucratic relationships. His major contribution is that he pounds another nail - perhaps the final one - in the coffin of principal-agent theorizing and brings us back to traditional political analysis . . . he demonstrates that, however important one of the political branches might be at a given time, American bureaucracies retain sufficient power resources so as to exercise significant degrees of political au`tonomy - but political outcomes always are contingent.
—American Political Science Review
"[Krause] makes a positive contribution to the theoretical and empirical study of bureaucracy. . . . The theory put forth in this book should help those researchers who wish to further examine the bargaining amongst the many parties involved in public administration. Certainly, political economists ought to take the two-way street hypothesis seriously."
—Public Choice
"George Krause's new work is a major contribution. He has provided both a sound theoretical basis for the further evolution of the literature and the empirical tools necessary to rigorously do so. This is a masterful work that should influence scholars for many years to come."
—Annals of the American Academy of Political and Social Science
or
Not Currently Available for Direct Purchase