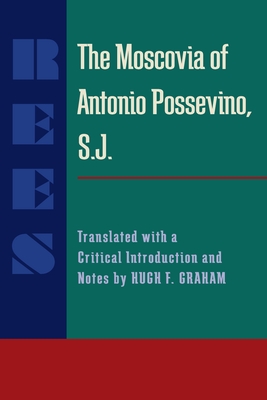 The Moscovia of Antonio Possevino, S.J. (Paperback)
Translated with a Critical Introduction and Notes by Hugh F. Graham (Russian and East European Studies)
University of Pittsburgh Press, 9780822985976, 212pp.
Publication Date: June 15, 1977
* Individual store prices may vary.
Description
This translation provides a descriptive account of the court of Tsar Ivan IV, in sixteenth-century Moscow, as seen through the eyes of papal envoy and Jesuit Antonio Possevino S.J. , who was sent to negotiate a peace between Muscovy and the Polish-Lithuanian commonwealth.
Praise For The Moscovia of Antonio Possevino, S.J.: Translated with a Critical Introduction and Notes by Hugh F. Graham (Russian and East European Studies)…
"For a number of years now Professor Graham has been providing English-speaking students of Muscovite history with graceful and accurate translations of Westerners' accounts of Muscovy, originally published in Latin. The present volume, his most ambitious undertaking to date, brings us the 'Moscovia' of Antonio Possevino, S.J., in most attractive and usable form, in the company of a helpful introduction, explanatory notes, and a fragment translated from the Muscovite transcript of Possevino's representations at the court of Ivan IV."
—Slavic Review
"Most textbooks on Russian and Eastern European history include a brief statement on the efforts of the papal envoy Antonio Possevino, S.J., to mediate the conflict between Muscovy and the Polish-Lithuanian Commonwealth that subsequently resulted in the peace settlement of 1582. . . . Moscovia in English translation is a most welcome addition to the source materials we have on Tsar Ivan's Muscovy, a volume recommended to all serious students of Russian history."
—Review of Politics
"Because Russian documentation for the sixteenth century is thin, foreign descriptions have unusual value. Possevino's description is the second best account after Baron von Herberstein's early in the century and is particularly rich on Russian religious practices."
—Sixteenth-Century Journal
or
Not Currently Available for Direct Purchase