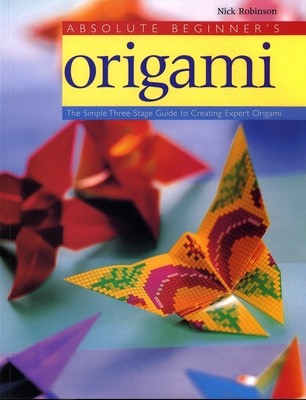 Absolute Beginner's Origami: The Simple Three-Stage Guide to Creating Expert Origami (Paperback)
The Simple Three-Stage Guide to Creating Expert Origami
Watson-Guptill Publications, 9780823000722, 96pp.
Publication Date: September 1, 2006
Description
Foolproof origami now in paperback More than 30,000 copies sold

Love origami, but frightened off by those strange dotted lines and shaded areas that make it seem like a bizarre geometry exercise? Absolute Beginner's Origami calms those fears, using a remarkable three-step system and step-by-step full-color photos to guide readers into the basics of folding, through intermediate steps, and on to putting it all together to make real origami. Twenty enchanting designs are presented in three easy-to-follow stages: first, bases and folds. Next, combining bases and folds and learning to interpret those line drawings. Finally, learning to fold origami paper into real, elegant origami animals and objects: butterflies, swans, dogs, and more By the end of the book, readers will understand how to read those line drawings and explore the wonderful world of origami with excitement and confidence.

Color photos and clear three-step method make anyone into a foldin' fool.
About the Author
Nick Robinson has taught origami in schools, youth centers, hospitals, and art centers for almost two decades. He is the author of several books on origami and paper airlines, and more than 100 of his original origami creations have been published in 18 countries.
Advertisement