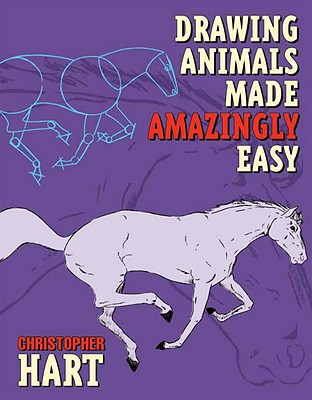 Drawing Animals Made Amazingly Easy (Paperback)
Watson-Guptill Publications, 9780823013906, 160pp.
Publication Date: January 1, 2007
Description
Christopher Hart, America's best-selling author of art instruction books, tosses all that aside to make drawing animals truly amazingly easy, by simplifying animal anatomy so that artists can get the poses they really want. What does that animal look like as it moves, bends, twists, jumps, runs? Simplified skeletons and an innovative new approach show how to look at an animal as a strangely built human with an odd posture--allowing the artist to draw animals by identifying with them. Hart's step-by-step instructions and clear text mean true-to-life results every time, whether the subjects are dogs, cats, horses, deer, lions, tigers, elephants, monkeys, bears, birds, pigs, goats, giraffes, or kangaroos.
About the Author
CHRISTOPHER HART is the world's bestselling author of drawing and cartooning books. His books have sold more than 7.4 million copies and have been translated into 20 languages. Renowned for up-to-the-minute content and easy-to-follow steps, all of Hart's books have become staples for a new generation of aspiring artists and professionals, and they have been selected by the American Library Association for special notice.
Advertisement