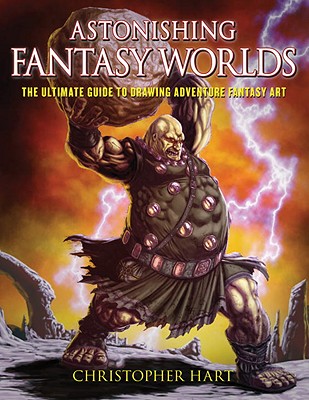 Astonishing Fantasy Worlds: The Ultimate Guide to Drawing Adventure Fantasy Art (Paperback)
The Ultimate Guide to Drawing Adventure Fantasy Art
Watson-Guptill Publications, 9780823014729, 144pp.
Publication Date: September 30, 2008
Description
Another sure-fire hit about one of today's hottest genres from best-selling author Christopher Hart

Drawing fantasy doesn t have to be just a fantasy anymore
Journey through fantasy worlds, meet strange and fascinating characters then draw them, the Chris Hart way
Brimming with fantastic art from top names

Everyone loves fantasy, whether they re young or old, male or female, geeky or chic-y. We all thrill to the bold heroes, the powerful heroines, and the evil villains. Now top-selling author and artist Christopher Hart reveals exactly how to draw every major fantasy genre: horror, Gothic, magic, medieval, primitive, undersea, and fairy. Here are wizards, beasts, soldiers and slaves, kings and queens, princes and princesses, knights, giants, nymphs and fairies, elves, griffins and unicorns, werewolves, dragons, and many more denizens of the many worlds of fantasy. And to make those fabulous creatures come to life, Hart uses his signature step-by-step style to explain exactly how to create deep shadows, high contrast, chains, spikes, sallow faces and bony fingers, cliffs, castles of light and castles of darkness, undersea cities, and other fantastic places and effects. It's a fantasy lover's fantasy, all between the covers of one fantastic book: Astonishing Fantasy Worlds.
About the Author
CHRISTOPHER HART is the world's bestselling author of drawing and cartooning books. His books have sold more than 6 million copies and have been translated into 20 languages. Renowned for up-to-the-minute content and easy-to-follow steps, all of Hart's books have become staples for a new generation of aspiring artists and professionals, and they have been selected by the American Library Association for special notice.
Advertisement