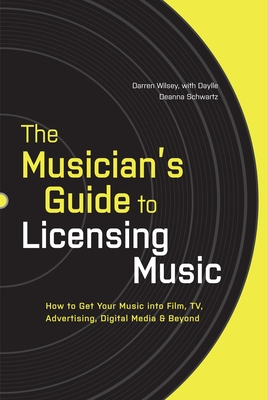 The Musician's Guide to Licensing Music (Paperback)
How to Get Your Music into Film, TV, Advertising, Digital Media & Beyond
Billboard Books, 9780823014873, 320pp.
Publication Date: February 16, 2010
* Individual store prices may vary.
Description
Plug your music career into the lucrative new income streams of the digital marketplace
 
Record deals are so twentieth century. Today, music licensing is the fastest route to widespread exposure and a steady income. Creators of films, television shows, commercials, video games, ringtones, podcasts and other digital-age media hunger for music perfectly suited to their projects—providing endless, lucrative opportunities for savvy musicians. Whether you're an unknown composer, an up-and-coming songwriter, an independent-label performer, or a big label star, there's a place for you in this fast-growing field—as long as you learn to master the game.  
 
How does music licensing work? Where are the most abundant and rewarding opportunities? Find the answers in this authoritative, up-to-the-moment overview of one of the most effective ways to market your talent. It's all here:
 
<ul><li>The key players in the music licensing business and the best ways to make contacts and bring your music to their attention</li><li>Types of licensing agreements and how to understand them</li><li>An inside look at the licensing selection process and how to get a jump on music requests</li><li>Negotiating payment and protecting your music in the open marketplace, including international venues</li><li>Getting music licensed for television shows, films, commercials, digital media, and less obvious markets like colleges and universities, theater companies, corporate training videos, and restaurants</li><li>Firsthand advice from top music executives, marketers, music supervisors, lawyers, talent managers, and filmmakers</li></ul>
About the Author
Darren Wilsey is an award-winning composer, songwriter, music producer, and author of The Musician's Guide to Licensing Music: How to Get Your Music into Film, TV, Advertising, Digital Media & Beyond. Wilsey has written, produced, and mixed music for an illustrious list of independent films and network television, including Ghost Whisperer, Sex & the City, and Queer as Folk. Wilsey studied at the Juilliard School of Music, where he majored in classical guitar. He received an MFA in music composition and technology from the University of California, Irvine. He lives in Orange County, CA, with his wife and their two sons.

Daylle Deanna Schwartz was a music industry consultant, self-empowerment counselor, and successful author of many books including I Don't Need a Record Deal and The Real Deal: How to Get Signed to a Record Label. She appeared on more than 300 television and radio shows, including The Oprah Winfrey Show and Howard Stern, and was quoted in many publications, such as the New York Times and Billboard. Schwartz died in 2014.