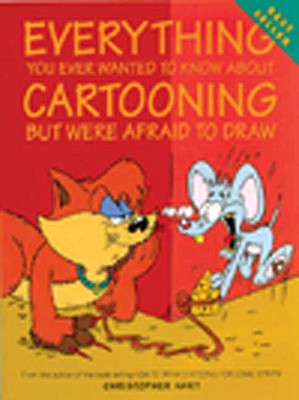 Everything You Ever Wanted to Know About Cartooning But Were Afraid to Draw (Christopher Hart's Cartooning) (Paperback)
Watson-Guptill, 9780823023592, 144pp.
Publication Date: April 1, 1994
* Individual store prices may vary.
Description
Written by a master cartoonist with a combination of wit (which every cartoonist needs) and invaluable advice, Everything You Ever Wanted to Know About Cartooning But Were Afraid to Draw is the ultimate cartooning book. It serves as a complete course for beginners as well as a great tool for the most advanced cartoonist. Author Christopher Hart covers everything a cartoonist needs to know to tell a joke visually, from the effective use of layout, light, and shading to the techniques of conveying emotion. There are lessons in drawing characters in reaction shots and "takes," indicating specific settings such as underwater and nighttime scenes, and depicting various weather conditions. There is even an entire chapter devoted to creating special effects—from speed to explosions. Of special importance, Hart shows cartoonists how to find their own drawing style and how to develop a cast of characters.

Written with boundless enthusiasm, this friendly yet authoritative book is filled with appealing, original comic strips and gags that Hart created especially to illustrate his lessons. Every artist who wants to draw cartoons will appreciate the insider's knowledge and tricks of the trade that Hart shares in this comprehensive sourcebook.
About the Author
CHRISTOPHER HART is the world's bestselling author of drawing and cartooning books. His books have sold more than 7.4 million copies and have been translated into 20 languages. Renowned for up-to-the-minute content and easy-to-follow steps, all of Hart's books have become staples for a new generation of aspiring artists and professionals, and they have been selected by the American Library Association for special notice.
or
Not Currently Available for Direct Purchase