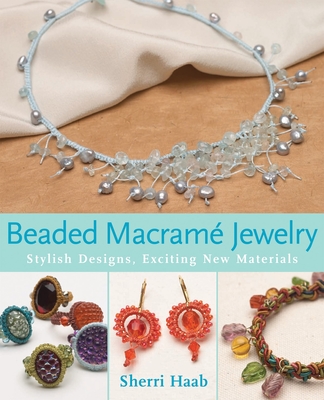 Beaded Macrame Jewelry: Stylish Designs, Exciting New Materials (Paperback)
Stylish Designs, Exciting New Materials
Watson-Guptill Publications, 9780823029525, 95pp.
Publication Date: August 1, 2006
Description
Macrame. Just the word summons up images of hideous 1960s atrocities designed to hang plants. But what was good about macrame in the 1960s is still what's good about macrame It's easy, it's fun, everybody can do it. And now everybody can get great results, making gorgeous jewelry that's sure to astonish anyone born before the Reagan era. Best-selling author Sherri Haab takes a completely fresh look at the craft, using fine cords and shimmering beads that are popular with today's beadwork and jewelry designers. Clear illustrations show how to do 14 simple knotting techniques. Then it's time to try 22 projects for bracelets, earrings, rings, necklaces, even a belt, a purse, and an iPod pouch--each one stylish, colorful, and easy to create. Beaded Macrame Jewelry is macrame for today.
About the Author
Sherri Haab is the author of the best-seller The Art of Metal Clay and an award-winning author, illustrator, and product designer of how-to books for kids. Her best-known titles are The Incredible Clay Book and Nail Art; both have sold more than one million copies. Her other books include Clay So Cute!, The Hip Handbag Book, Designer Style Jewelry, Dangles and Bangles, and The Art of Resin Jewelry. She lives near Provo, Utah.
Advertisement